The United States said it had seized the climate initiative with a regulatory shift that labels greenhouse gases a dangerous pollutant, as a landmark conference entered a second day Tuesday.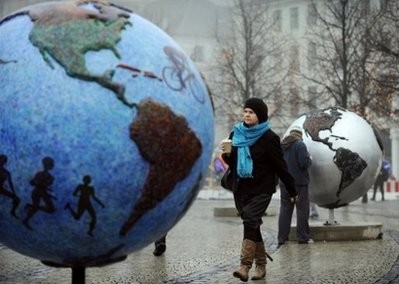 The displays, entitled "Cool Globes", an exhibition about combating global warming and climate change in the Kongens Nytorv area in the center of Copenhagen (Photo: AFP)
The shift by the Environmental Protection Agency was announced on the opening day of a 192-nation meeting in Copenhagen aimed at drawing up a global pact to tackle climate change amid warnings of environmental catastrophe.
The US move "means that we arrive at the climate talks in Copenhagen with a clear demonstration of our commitment to facing this global challenge", EPA Administrator Lisa Jackson said.
Jackson signed orders declaring six greenhouse gases blamed for global warming, including carbon dioxide, to be pollutants that are subject to government regulation.
The decision sidestepped a divided Congress and was greeted with outrage by Republicans and some US business leaders. But delegates to the talks in Copenhagen said it would lend momentum to the 12-day conference. Related article: 10 million sign climate petition
"It will only help to persuade delegates and observers from other countries that the US is seriously using all the tools it has," said David Doniger, policy director of the National Resources Defense Council's climate centre.
"The administration has the task of persuading other countries that it is seriously tackling this issue at a time when the legislation is still working its way through Congress," he said in the Danish capital.
France's climate ambassador Brice Lalonde said: "This gives additional credibility to the US commitment."
The impact on humanity of man-made drought, flood, storms and rising seas was spelt out Monday at the start of the meeting, which will climax with a summit attended by more than 110 leaders including US President Barack Obama.
"For the next two weeks, Copenhagen will be Hopenhagen," Danish Prime Minister Lars Loekke Rasmussen said.
"By the end, we must be able to deliver back to the world what was granted us here today: hope for a better future," he said.
The Copenhagen marathon gathers members of the UN Framework Convention on Climate Change (UNFCCC). Delegates must craft a blueprint for tackling man-made greenhouse gases blamed for trapping solar heat and disrupting the climate. Reducing carbon emissions: the options
They must also put together a funding mechanism able to channel hundreds of billions of dollars to poor nations most exposed to climate change.
If all goes well, the leaders on December 18 will agree a political deal that sets down the course of action, including a roster of national pledges.
Further negotiations are expected to take place in 2010 to fill in the details. A legally binding treaty would take effect from the end of 2012.
Analysts, though, point to the huge gap between demands from developing countries and the willingness of rich countries to dig both into their pockets and into their carbon emissions.
Connie Hedegaard, a Danish minister elected to chair the talks, said political will would "never be stronger". Related article: US poised to regulate C02
"This is our chance. If we miss it, it could take years before we get a new and better one -- if ever," she said.
Obama is hoping to push through a new deal after the United States -- the world's biggest economy -- rejected the Kyoto Protocol under his predecessor, George W. Bush.
Leading US negotiator Jonathan Pershing was cautious, saying Copenhagen was only a stepping stone.
"We see it beginning with a political arrangement that would be operational, that would move elements and activities forward immediately, and that would then be followed by a negotiation of a legal arrangement," he told reporters.
Still, the EPA ruling gives Obama powerful new leverage to meet US pledges on emissions even if his critics in Congress derail legislation. European nations meanwhile are divided over hardening their own emissions targets.
The 27 EU nations have already agreed to cut emissions 20 percent by 2020. The dispute is over a linked proposal to boost the cuts to 30 percent if the rest of the world makes ambitious pledges in Copenhagen.
Poland, which like other eastern European members relies on heavily polluting coal-fired power stations, said other countries outside Europe had failed to come up with the goods.
But France, Britain and others argue there have already been sufficient pledges to warrant the switch to a 30 percent target. Related Article: Nine European nations agree on wind energy initiative
"We've got to make (European) countries recognise that they have to be as ambitious as they say they want to be," British Prime Minister Gordon Brown told Tuesday's Guardian newspaper.
.