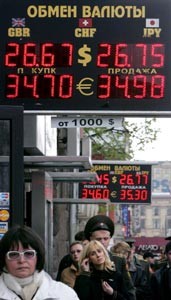 A currency exchange rate display in central Moscow 12 May 2006. Russian Rouble reaches its highest level since January 2000 (AFP Photo)
Officials from the Group of Seven major industrialized nations have been frequently in contact with each other recently on the telephone to discuss exchange rate issues, Tanigaki was quoted as telling a meeting with a group representing local companies in Osaka, western Japan.
He quoted Snow as telling him in phone talks, "The open and competitive market decides the value of currencies. The strong dollar policy is the United States' interest and the United States will maintain this policy."
The dollar has weakened since G7 finance chiefs last month cranked up the pressure on emerging economies, particularly China, to allow their currencies to appreciate as part of efforts to remedy global economic imbalances.
Tanigaki stressed last week that the G7 nations were not seeking a depreciation of the dollar, suggesting financial markets had misunderstood their April 21 statement.
Japanese government ministers last week voiced growing concern about the recent rapid rise of the yen against the dollar which hurts exporters.
Source: AFP