The United States said Sunday it would hold direct talks with North Korea but only in the context of the existing six-party framework, in response to Pyongyang's renewed nuclear sabre-rattling.
US special representative on North Korea Stephen Bosworth has been in Seoul since Friday for talks with South Korean officials to discuss ways to press Pyongyang to return to the negotiating table.
He arrived on the day North Korea announced experimental uranium enrichment was entering the completion phase, in a defiant response to tougher UN sanctions imposed after its May 25 nuclear test and separate missile test launches.
Bosworth told reporters that following the "very useful conversation" with Seoul officials, the two sides had agreed to continue to push for the North's nuclear disarmament within the six-party framework.
The North has been pushing for bilateral talks with the United States since its April move to quit the process grouping the two Koreas, the US, Japan, Russia and China in protest at the UN censure of a rocket launch.
"Because of the nature of this issue, its regional implications and its global implications, this is a problem that requires a multilateral solution," Bosworth said Sunday, wrapping up his Seoul visit.
"As we have indicated in the past we are prepared to engage bilaterally as well with the North Koreans, but only in the context of the six-party process in order to facilitate the six-party exercise."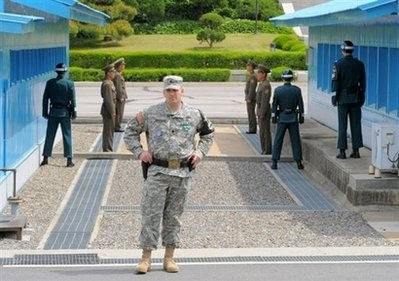 A US military officer (C) is seen as South and North Korean soldiers stand guard at a joint security area known as Panmunjom in the Demilitarized Zone dividing the two Koreas.
The US envoy was in Seoul as part of a three-nation Asian tour that had already taken him to Beijing. He was due to fly to Tokyo later Sunday.
Bosworth met with Seoul's chief nuclear envoy Wi Sung-Lac and Unification Minister Hyun In-Taek Saturday, and Foreign Minister Yu Myung-Hwan on Sunday.
As well as its announcement on uranium, North Korea said reprocessing of spent reactor fuel rods was also in the final phase and extracted plutonium was being weaponised.
Pyongyang had for years denied US allegations of a secret highly enriched uranium (HEU) programme, in addition to its admitted plutonium-based operation.
"Any indication of a nuclear programme on the part of North Korea, whether it is HEU or anything else, is a subject of concern, and one which would have to be addressed if we are going to deal comprehensively with the denuclearisation of the Korean peninsula," Bosworth said.
But he said the North's alleged progress in its uranium programme, which the outside world has yet to clarify, brought no real change to regional security.
"I wouldn't say that it's a change to security balance in Asia," Bosworth said. "This is not the first we've heard of HEU and it may not be the last."
The US government said Friday it was "very concerned" by the North Korean statements and vowed to stand firm on the sanctions.
"We continue to be committed to ensuring that North Korea upholds its international obligations and we continue to strongly implement the sanctions that were approved," White House spokesman Robert Gibbs said.
"Our goal continues to be, and will continue to be the denuclearisation" of the Korean peninsula, he said.