The US Treasury has said it reached an agreement to sell the government's stake in Chrysler Group for an estimated $560 million to Italian automaker Fiat.
With the deal, the Treasury "will have fully exited" its investment in Chrysler under the Troubled Asset Relief Program (TARP).
"As Treasury exits its investment in Chrysler, it's clear that President (Barack) Obama's decision to stand behind and restructure this company was the right one," Treasury Secretary Timothy Geithner said in a statement.
"Today, America's automakers are mounting one of the most improbable turnarounds in recent history -- creating new jobs and making new investments in communities across our country."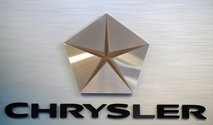 The logo of auto firm Chrysler is seen in Los Angeles, California
Fiat agreed to pay Treasury $500 million for its 98,461 shares of Chrysler.
Treasury also held the right to proceeds above a certain threshold received by the United Auto Workers retiree trust from the trust's sale of Chrysler equity, as well as a right to purchase all of the shares retained by the UAW retiree trust that Fiat will purchase for $75 million.
Treasury will receive 80 percent of the proceeds ($60 million) from that $75 million, while the Canadian government will obtain 20 percent of the proceeds ($15 million).
In May, Chrysler repaid $5.1 billion in Treasury loans six years ahead of schedule.
Chrysler and General Motors, the biggest US automaker, required government rescues and underwent bankruptcy reorganizations to survive a severe slump in US auto sales during the 2008-2009 financial crisis.
Fiat has been steering the company after taking a 20 percent stake as the US carmaker emerged from bankruptcy in June 2009.
The firm raised its stake in Chrysler twice this year, in January to 25 percent, and in April to 30 percent