Taliban attacks have declined in most of Afghanistan for the first time but insurgent sanctuaries in Pakistan are feeding violence on the border and threatening the US-led war effort, the Pentagon said in a report Friday.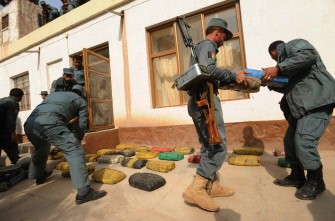 Afghan policemen carry packages containing opium during a police presentation in Herat on October 28, 2011.
A surge of US and allied troops has paved the way for security gains in the south and elsewhere while the Taliban have failed to gain back former southern strongholds in Helmand and Kandahar provinces, the Pentagon said in its report to Congress.
"The most significant development during this reporting period is the reduction in year-over-year violence," said the progress report, which covered April 1 to September 30.
After five successive years with insurgent attacks steadily rising, Taliban-initiated violence began to drop in May as compared to the previous year, it said.
The total number of "enemy-initiated attacks" fell to a total of 2,500 in September, compared to about 4,000 in the same month last year, it said.
US and coalition commanders have touted positive trends in violence levels in recent weeks, but the report provided the fullest account yet of what senior officers believe to be a promising shift in the 10-year-old war.
In seven areas where NATO has transferred security duties this year to Afghan forces, insurgents have sometimes tried to reverse the transition but government units "have been able to handle them on their own," a senior defense official said.
The report showed US and allied troops were "on track" with plans to gradually hand over security for the whole country to Afghan forces by the end of 2014, despite worries over insurgent havens in Pakistan, the official, who spoke on condition of anonymity, told reporters.
But insurgent camps in neighboring Pakistan beyond the reach of NATO forces, as well as the Afghan government's shortcomings, posed a risk to overall progress, the report said.
"Although security continues to improve, the insurgency's safe havens in Pakistan, as well as the limited capacity of the Afghan Government, remain the biggest risks to the process of turning security gains into a durable, stable Afghanistan," it said.
Security conditions in eastern Afghanistan, near the Pakistani border and south of Kabul, remain "tenuous," with violence sharply up compared to last year's summer fighting season.
"The rise in violence and the insurgency's ability to carry out operations in the east is directly attributable to safe havens in Pakistan," it said.
Pakistan's role in the war has come under an intense spotlight since the former top-ranking US military officer, Admiral Mike Mullen, last month charged that Haqqani militants attacking US troops were a "veritable arm" of Islamabad's Inter-Services Intelligence.
The deputy commander of US forces in Afghanistan, General Curtis Scaparrotti, on Thursday said Pakistan's Frontier Corps appeared to be allowing insurgents to direct rocket and mortar fire at US troops in some eastern provinces on the border.
US officers have reported a sharp rise in cross-border attacks against American outposts since US special forces conducted a raid inside Pakistan in May to kill Al-Qaeda mastermind Osama bin Laden, a raid that angered Islamabad.
Pakistan, worried about arch-foe India's potential influence in Afghanistan, has maintained links with some militants as a hedge to protect its interests, analysts say.
Pakistani officials have often doubted whether the United States could succeed in Afghanistan and as a result believe that "they have to hedge against us failing" and leaving, said the defense official.
"So one of the messages of this report is very much to Pakistan, as well as to the Taliban, that we're succeeding," he said.
The US military has struggled to strike the right balance in its portrayal of the war, with some officials keen to tout progress while others have tried to manage expectations.
In a break with previous reports and public statements that suggested greater confidence in the campaign, the report did not describe progress as "fragile and reversible."
Officials also acknowledged that that even though the number of Taliban attacks were down, the insurgents were killing and wounding more civilians, mainly through homemade bombs.
More than 450 civilians were killed or wounded by insurgents or by NATO-led forces in July, slightly up from the same month last year.
About 80 percent of the civilian casualties were caused by improvised explosive devices planted by insurgents, it said