US Senator Ted Kennedy, the last of the storied band of brothers who appeared born to rule, has died after losing a battle with brain cancer, his family said Wednesday. He was 77.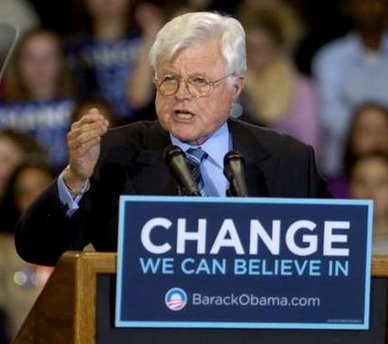 Senator Edward Kennedy (D-MA) makes remarks at a rally for Democratic presidential candidate Senator Barack Obama (D-IL) at American University in Washington in this January 28, 2008 file photo
Edward M. Kennedy, regarded as the "liberal lion" of the Senate who was once tipped to succeed his assassinated brother John as president, died late Tuesday at his home in Hyannis Port, Massachusetts.
"We've lost the irreplaceable center of our family and joyous light in our lives, but the inspiration of his faith, optimism, and perseverance will live on in our hearts forever," his family said in a statement.
"We thank everyone who gave him care and support over this last year, and everyone who stood with him for so many years in his tireless march for progress toward justice, fairness and opportunity for all. He loved this country and devoted his life to serving it."
Kennedy, also widely known as "Teddy," had fought brain cancer for more than a year.
The youngest of the Kennedy sons, Ted was left to take up the helm of the storied political dynasty after tragedy struck the family with the assassinations of President John F. Kennedy in 1963 and another brother, Robert, while on the presidential campaign trail in June 1968 .
As history has it, Ted was the only one of the Kennedy sons to not die violently. Joe Kennedy, a pilot, died in World War Two.
But he never fulfilled what many had seen as his political destiny, his White House hopes dashed after a series of embarrassing episodes.
In 1969, Kennedy accidentally drove off a bridge at Chappaquiddick in Massachusetts, killing a female companion, Mary Jo Kopechne.
The scandal deepened when it emerged that Kennedy had swum to safety from the car, leaving Kopechne, then waited until the following day to report the incident.
He was given just a two-month suspended sentence for leaving the scene of the accident but his presidential aspirations never recovered and lost the Democratic nomination to Jimmy Carter in the 1980 election.
Nevertheless, he made it big on the other side of Pennsylvania Avenue, winning easy re-election to the Senate throughout a 47-year tenure.
During an emotional speech at the Democratic National Convention in August 2008 during which he threw his weight behind then-candidate and now President Barack Obama, Kennedy described his lifetime commitment to realizing healthcare reform.
"This is the cause of my life," Kennedy said during the speech.
"The work begins anew. The hope rises again. And the dream lives on," said Kennedy, who saw in Obama's rise to the White House hope to realize his goal to overhaul US healthcare, which leaves some 46 million Americans uninsured.
But his death came at a time when the fate of Obama's plan for a sweeping overhaul of the US healthcare system has been bogged down in Congress and faces mounting public concern expressed in sometimes tumultuous townhall meetingss.
Senate Majority Leader Harry Reid joined other congressional leaders whose tributes poured in minutes after Kennedy's death was announced, mourning the loss of "our patriarch."
"Because of Ted Kennedy, more young children could afford to become healthy. More young adults could afford to become students. More of our oldest citizens and our poorest citizens could get the care they need to live longer, fuller lives," Reid said in a statement.
"More minorities, women and immigrants could realize the rights our founding documents promised them. And more Americans could be proud of their country.
"The liberal lion's mighty roar may now fall silent, but his dream shall never die," added Reid, vowing to "rededicate ourselves" to the causes to which Kennedy dedicated his life.
Kennedy had undergone radiation and chemotherapy treatment as well as surgery since being diagnosed with glioblastoma in May 2008 after a seizure.
Following results from a biopsy, doctors had diagnosed Kennedy with a malignant glioma in the left parietal lobe, an area of the brain that controls speech, among other functions.
The brain tumor diagnosis sent shockwaves through the US Congress, where Kennedy had been a dominant figure for nearly half a century and was a champion of causes such as healthcare, education, workers' rights and immigration reform.