The United States and South Korea staged a potent show of naval strength Sunday as residents of a border island bombarded last week by North Korea scurried for shelter for fear of a new attack.
The Yellow Sea naval drill, spearheaded by the massive US nuclear-powered aircraft carrier George Washington, aims to send a message of deterrence to the North but has sparked strong criticism from Pyongyang's ally China.
During an unscheduled trip to South Korea, senior Chinese official Dai Bingguo held two hours of talks with President Lee Myung-Bak. No details of the discussions were immediately available.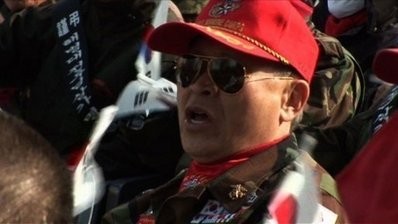 About 1,000 South Korean military veterans rallied in Seoul recently, burning North Korea's national flag and portraits of its leaders and vowing revenge for the regime's shelling of a frontline island
North Korea has warned that the four-day war games, which are being held far south of the disputed border, bring the divided peninsula "closer to the brink of war".
"If the US brings its carrier to the West Sea of Korea (Yellow Sea) at last, no one can predict the ensuing consequences," its official news agency said hours before the exercise began.
The drill, involving at least 11 ships, is one of a series announced in May, after a Seoul-led multinational investigation found overwhelming evidence that a North Korean torpedo had sunk a South Korean warship in March.
That sinking, which cost 46 lives, sparked anger in the South.
But Tuesday's artillery and rocket bombardment, which hit civilian areas for the first time since the 1950-53 war, killing two civilians and two marines, was seen as more shocking.
The North said it acted in retaliation to a South Korean firing drill in what it regards as its own waters around the contested border. On Saturday it said the two civilian deaths were "if true... very regrettable".
But it also charged that civilians on Yeonpyeong island -- which is also home to a marine base -- had been used as "human shields" by being placed near artillery positions.
"The DPRK (North Korea) will deal a merciless military counter-attack at any provocative act of intruding into its territorial waters in the future, too," ruling paper newspaper Rodong Sinmun said on Sunday.
ireWith tensions acutely high, people on the island were briefly ordered to shelter in bunkers Sunday after explosions were heard from the direction of North Korea.
Faint sounds of explosions -- possibly artillery fire -- were heard several times from the North's mainland, a defence ministry spokesman told AFP.
The order was lifted when no more sounds were heard.
Yonhap news agency, quoting a government source, said the North had deployed surface-to-air missiles near the border. The defence ministry declined to comment.
President Lee has come under pressure to take a tougher line against the North after the military's counter-fire last week was seen as feeble. His defence minister quit on Thursday to take responsibility.
The United States insists that the drill is defensive in nature and was planned long before the attack, but says it is intended to send a message of deterrence to the North.
It is led by the USS George Washington, a 97,000-ton behemoth that can carry about 75 aircraft on its 1.8 hectare (4.5 acre) flight deck and has a crew of 5,500.
Also taking part on the US side was an embarked carrier air wing and vessels the USS Cowpens, Lassen, Stethem and Fitzgerald.
Six South Korean warships, including a 7,600-ton Aegis-class destroyer, two 4,500-ton destroyers and frigates, as well as anti-submarine aircraft were joining the drill, the military in Seoul said.
The drill will also involve a high-flying US J-STARS (joint surveillance and target attack system) surveillance aircraft to monitor the North's military moves, Yonhap reported.
The exercise has raised tensions between Washington and Beijing, which regards the Yellow Sea as its backyard and has refrained from condemning its ally over Tuesday's attack.
A top North Korean official will visit ally China this week, the state Xinhua news agency reported.
It said parliament chairman Choe Thae-Bok, a close confidant of leader Kim Jong-Il, would arrive Tuesday and leave Saturday but gave no details.
Some 20 left-leaning activists rallied outside a South Korean naval base at Pyeongtaek to protest against the naval exercise.
"Stop the Korea-US drill that causes vicious cycle of retaliation and confrontation!" read one banner. A few protesters loudly argued with grim-faced soldiers guarding the base gate.