Top US diplomat Hillary Clinton on Monday accused WikiLeaks of an "attack" on the world as key American allies were left red-faced by embarrassing revelations in a vast trove of leaked memos.
Meanwhile new diplomatic cables continued to trickle out, including one saying Iran's supreme leader has cancer and will be dead "within months" and another saying that China would eventually accept a reunited Korea.
In a lengthy statement, the secretary of state had attempted to limit the damage as she told reporters the United States "deeply regrets" the release of the 250,000 diplomatic cables, all apparently from the State Department.
"This disclosure is not just an attack on America's foreign policy interests. It is an attack on the international community," Clinton said, following talks in Washington with Turkey's foreign minister.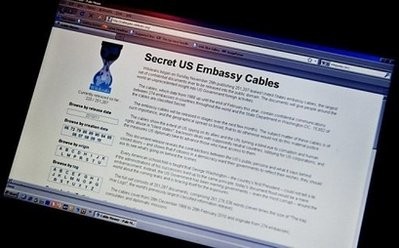 View of the WikiLeaks homepage taken in Washington.
"We are taking aggressive steps to hold responsible those who stole this information" and to prevent future disclosures, she added.
The flood of leaked US diplomatic cables -- most of which date from between 2007 and February 2010 -- has revealed secret details and indiscreet asides on some of the world's most tense international issues.
WikiLeaks gave the cables to journalists from five Western publications several weeks ago, and they are being released on the Internet in stages.
On Monday the British Telegraph newspaper published an August 2009 cable quoting a businessman with close ties to Iranian elites as saying that Ayatollah Ali Khamenei has a rare form of leukemia and would soon be dead.
Another cable from last year said China, long North Korea's protector, found Pyongyang's nuclear weapons "very troublesome" and would accept reunification after the eventual collapse of Kim Jong-Il's regime.
Earlier highlights included a call by Saudi King Abdullah for the United States to "cut off the head" of the Iranian snake over its nuclear program and leaked memos about a Chinese government bid to hack into Google.
WikiLeaks creator Julian Assange described the mass of documentation as a "diplomatic history of the United States" covering "every major issue."
But White House spokesman Robert Gibbs fired back on Monday, calling WikiLeaks and others who leak documents "criminals, first and foremost."
He added, however, that he did not believe the release "impacts our ability to conduct a foreign policy that moves our interests forward."
US Attorney General Eric Holder said there was an "ongoing criminal investigation" of the leaks and vowed to pursue Assange, an Australian believed to be living in Europe, if he is found to have violated US law.
Despite a last-minute cyber attack claimed by a private computer hacker, WikiLeaks on Sunday began publishing 251,287 cables -- 15,652 of which are classified "secret" -- on http://cablegate.wikileaks.org.
US officials had raced to contain the fallout last week by warning more than a dozen governments but refused to negotiate with WikiLeaks.
Iranian President Mahmoud Ahmadinejad, whose policies are the subject of many of the memos, dismissed them as "worthless" and "mischief" which would not affect Tehran's relations with its Arab neighbors.
Afghanistan insisted its relations with the United States would not be affected by cables portraying President Hamid Karzai as a paranoid conspiracy theorist and his brother as a corrupt drugs baron.
Russia likewise tried to play down US diplomats' reported assessment of the country as "a virtual mafia state" where President Dmitry Medvedev plays "Robin" to Prime Minister Vladimir Putin's "Batman."
"There is nothing new or deserving a comment," Kremlin spokeswoman Yulia Timakov was quoted as saying by Russian news agencies.
An unidentified Kremlin official also downplayed the leaks, telling a local paper that "our own diplomats are sometimes just as open in their own private messages to each other."
Israel emerged as a surprising beneficiary, with senior officials saying that the leaks vindicated the Jewish state's position as they exposed widespread Arab concern over Iran's nuclear program.
US officials have not confirmed the source of the leaks, but suspicion has fallen on Bradley Manning, a former army intelligence analyst arrested after the release of a video showing air strikes that killed reporters in Iraq.
WikiLeaks argues that its first two document dumps -- nearly 500,000 US military reports from 2004 to 2009 -- shed light on abuses in Afghanistan and Iraq, and denies any individual has been harmed by its disclosures.