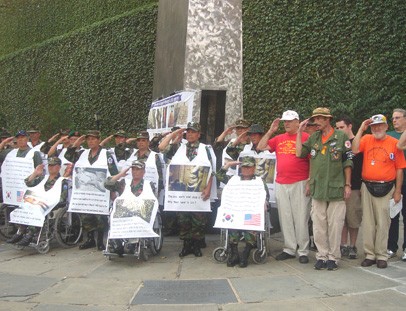 A 32-person delegation of Republic of Korean veterans who fought under US command in Viet Nam and are victims of AO holds a rally for justice at the United Nations Plaza on August 24, 2006
A design flaw in the federal government's $140 million study, lasting 15 years, of the health effects of Agent Orange on veterans of Viet Nam War has resulted in inaccurate findings, two American scientists involved with the study told The Greenville News. Lao Dong Newspaper quoted the article writing that the U.S. Air Force missed a very important data that could change the study's result.
The official conclusion
Begun in 1978 to help settle compensation claims, the Air Force Health Study ended on Sep 29, 2006. The research compared one thousand American airmen who sprayed herbicides in a series of missions called Operation Ranch Hand with 1,300 other Air Force veterans who served in Southeast Asia without praying the herbicides.
In the Air Force regular reports from 1984, the Air Force suggested that the veterans of Operation Ranch Hand were still as healthy as the comparison group. The rate of cancer, heart disease or any other disease but diabetes did not increase remarkably.
The last report in 2005 showing the results of physical examinations administered in 2002 concluded there was no connection between cancer disease and exposure to herbicides.
The missed data
However, the US Air Force did not take into account an important factor. Joe Michalek, a scientists involved with the study from the beginning and a project's inspector for 14 years told The Green Ville that 600 airmen of the comparison group fought in the battles in Viet Nam and might have been infected by herbicides.
Michalek is a co-author of two articles published on an environmental and medical journal in 2004 and 2006. He wrote that he discovered the remarkable cancer rate in both the Ranch Hand group and the comparison group.
However, his data was not used in the US Air Force Study. Michalek suggested that the study's result would deny health compensation for thousands of veterans
The Air Force spokesman Ed Shannon refused to comment officially on the missed data when he was asked why Michalek's cancer analyses were not used in the Air Force's reports.
The Air Force answered in an e-mail that the last report was based on the airmen's last physical examinations in 2002 while Michalek's research went into public in 2004 and 2005.

Related Article:
Agent Orange Investigation Nearing End