Ten Russian secret agents were deported from the United States in exchange for four people held by Moscow as spies, a report said, as the two nations sealed the most sensational spy swap since the height of the Cold War.
The spy suspects in US custody pleaded guilty in a New York federal court to acting as illegal agents for Moscow and were ordered immediately expelled from the United States, never to return.
A high-ranking Russian official familiar with the situation and speaking on condition of anonymity told AFP the Kremlin agents were expected to arrive in Russia on Friday.
The official declined to offer further details. A foreign ministry spokeswoman declined to comment, saying the ministry would put out a statement shortly.
Russia's Channel 1 broadcast footage showing the Russian spies boarding a plane in an unspecified US location. The television channel said the plane was to leave for Russia.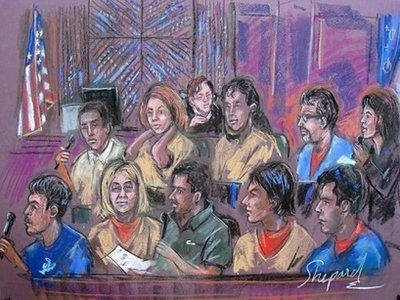 Courtroom drawing shows the ten alleged spy suspects in a New York courtroom.
The case, which threatened to set back steadily improving relations between the White House and the Kremlin, reached its dramatic conclusion when the agents who infiltrated America were put on a plane to Moscow late Thursday just hours after their New York court appearance, NY1 television reported.
In exchange, Russia agreed to release four people convicted of spying for Western countries and imprisoned, at least in one case, in harsh regions once housing the communist Gulag.
The spies, all arrested June 27, included Russian Anna Chapman, whose nude pictures and racy sexual history have made her a global tabloid sensation, and Peruvian-American journalist Vicky Pelaez, who admitted to carrying a letter written in invisible ink.
Despite the flashy headlines, the spy ring appeared to have been amateurish and made little impact in the decade since being formed.
"No significant national security benefit would be gained from the prolonged incarceration in the United States of these 10 unlawful agents," State Department spokesman Mark Toner said.
In New York, Federal Judge Kimba Wood rushed through the procedure, sentencing the 10 to "time served" within minutes of hearing them plead guilty.
With Washington keen to draw a line under the affair before it seriously upsets improving Russian-US ties, the court session was notable for the lack of light shed on the agents' activities.
Speaking in English in accents ranging from thick Russian to American, all but one of the 10 -- Pelaez -- admitted they were Russian. Several also acknowledged using fake names to hide in deep cover.
For example, the defendants living as Richard and Cynthia Murphy were really Vladimir and Lydia Guryev, while Donald Heathfield's true name was revealed to be Andrey Bezrukov.
Only Pelaez, a firebrand columnist with New York's Spanish-language El Diario newspaper, gave a tantalizing hint of more James Bond-style activities, saying in Spanish through an interpreter that she "brought a letter with invisible ink" to her contact.
Pelaez, unlike the others, is a US citizen. But a senior US official said that as part of the deal, she agreed never to return to the United States "absent the authorization of the attorney general."
The plea agreement also states that if any of the suspects want to profit in the future by selling details of their case, the proceeds would go to the US government, the official added.
US officials said the four jailed agents in Russia were forced to confess to charges there as part of the deal.
"I leave it to the individuals involved to tell their stories, including their years of imprisonment. But in order to get out of jail, they had no choice but to sign the Russian government oath," the US official said.
Russia went to great lengths to ease the deal, sending consular officials to the detained 10 to describe "the life these defendants might be returning to back in Russia," a US prosecutor said.
Pelaez, the court heard, was promised free housing in Russia, a 2,000-dollar monthly stipend "for life," and visas for her children to visit.
Outside the courthouse, a lawyer for Chapman, the founder of a successful New York real estate company, said his client was "glad to be released from jail" but "unhappy that it has probably destroyed her business and that she has to return to Moscow."
"I hope that I will soon be able to see and embrace my daughter," Chapman?s mother Irina Kushchenko told the lifenews.ru news website.
"Anna has done nothing bad and whatever happened, whatever was said, she will soon be next to us," she added.
In Moscow, a spokesman for President Dmitry Medvedev confirmed the leader pardoned four Russians late Thursday, including arms control expert Igor Sutyagin.
A lawyer for Sutyagin, who was sent to the frozen wastelands of Arkhangelsk after being convicted in 2004, said her client may already have been released and taken to Vienna.
Also to be exchanged was Sergei Skripal, a former colonel with Russian military intelligence sentenced in 2006 to 13 years jail on charges of spying for Britain.
The remaining two were Alexander Zaporozhsky, a former employee of the Russian Foreign Intelligence Service who was jailed for 18 years for espionage in 2003, and a fourth called Gennadi Vasilenko.
Exchanges of captured agents between Western and Eastern powers were a regular tactic in the Cold War, sometimes on the Glienicke Bridge between East Germany and West Berlin.
The last high-profile swap was back in 1984, when US journalist Nicholas Daniloff was expelled from Russia the day before Gennady Zakharov, a Soviet official at the United Nations, came the other way after appearing for less than five minutes before a New York court.