The United States was to press its European allies Wednesday to provide more troops and equipment to combat the insurgency in Afghanistan, at NATO defence ministers' talks in the Netherlands.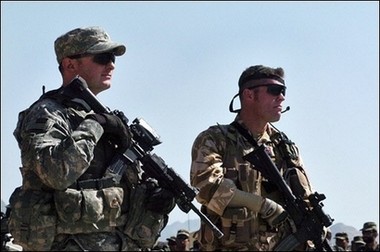 A US soldier (L) and a British soldier with the NATO-led International Security Assistance Force stand guard in the Rishkhur district on the outskirts of Kabul, 10 October 2007. (AFP Photo)
At a two-day meeting in the coastal town of Noordwijk, US Defense Secretary Robert Gates was expected to buttonhole the allies for reinforcements, with the US military increasingly stretched by fighting in Afghanistan and Iraq.
Thirty-seven nations are contributing around 40,000 troops to the NATO-led International Security Assistance Force (ISAF) in Afghanistan, which is battling to extend the rule of the weak central government across the country.
ISAF commanders have requested more combat troops, helicopters and aircraft, as well as trainers to help bring fledgling Afghan soldiers up to a standard where they can provide security on their own.
But countries doing the lion's share of the fighting -- the US, Britain and Canada -- feel let down that their allied partners are still unwilling to deploy troops to the volatile south and east of Afghanistan.
"We expect NATO allies and EU partners to meet their responsibility in sharing the risks and costs of collective action," British Defence Secretary Des Browne told parliament last week.
"The contribution of some European nations is quite disappointing," he said.
In a sign of growing US exasperation, Gates has even let speculation mount that Washington might withdraw its 1,800 troops from Kosovo, in Europe's backyard, after next summer to plug holes in Afghanistan.
Yet the importance of NATO's mission in Afghanistan -- its biggest and most ambitious operation ever -- cannot be overstated.
The strife-torn country's mountainous border area with Pakistan has proved a training ground for extremists -- including Osama bin Laden and his Al-Qaeda network -- and a platform for launching attacks around the world.
And under pressure from drug lords, not to mention Taliban rebels desperate for money to buy weapons, Afghan farmers are producing around 90 percent of the opium that reaches Europe's streets in the form of heroin.
But four years into NATO's mission -- the alliance took over ISAF in 2003 -- mounting troop and civilian casualties, the latter often caused by air strikes used when soldiers have been lacking, are turning public opinion.
A survey in Canada in August showed that solid majorities of people in Britain, France, Germany and Italy thought the ISAF-mission was a failure, while almost one in two Canadians agreed.