US trade protectionism against China is growing, putting bilateral economic ties to the test, Chinese Commerce Minister Chen Deming said in Tuesday's Asian Wall Street Journal.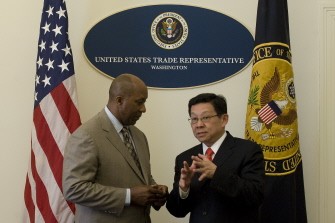 US Trade Representative Ron Kirk (L) speaks with China's Minister of Commerce Chen Deming before a meeting at the US Trade Representative Office in Washington, DC, April 27, 2009. (AFP Photo)
Chen, who is paying a visit to Washington this week, also said in his opinion piece that China was not pursuing a trade surplus with the United States.
"History tells us that the more serious a crisis becomes, the more committed we must be to openness and cooperation. Regrettably, however, trade measures by the US against China are on the rise," Chen wrote.
He said US industries had petitioned the US government for anti-dumping investigations, and for investigations under World Trade Organisation rules that could lead to restrictions of imports of Chinese products.
"This will seriously test China-US economic and trade relations," he said.
Chen called on the two nations to mutually open their markets and expand trade and investment.
"The Chinese government does not pursue a trade surplus with the US," he said.
"We will continue to encourage Chinese companies to import more from the US, and we will also welcome US companies and trade-promotion agencies to be more active in China."
In February, the US economy's politically sensitive deficit with China stood at 14.2 billion dollars, compared with 20.6 billion dollars in January.
The gap with China, by far the biggest US trade deficit, swelled to an all-time high of 266.3 billion dollars in 2008 from 256.2 billion dollars in 2007.
China's continued trade surplus with the United States is a constant source of anger among American businesses, which argue that China's exporters get an unfair advantage from an artificially undervalued currency.