The US Treasury announced it was selling $5.8 billion worth of AIG shares, in the US government's first move toward winding down its stake in the bailed out insurance group.
The 200 million shares were priced at $29 each. American International Group, for its part, sold 100 million shares for 2.9 billion.
"Today's announcement represents an important milestone as we continue to exit our stake in AIG and wind down TARP," Treasury Secretary Timothy Geithner said in a statement.
"The decision to provide this assistance was exceptionally difficult, but it's clear today that it was essential to stopping a financial panic, preventing a severe economic collapse and helping save American jobs."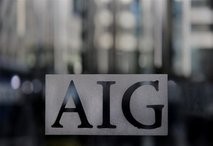 Logo of American International Group.
Once the world's largest insurer, AIG received more than $180 billion from the government to help cover investments that disappeared amid the collapse of the US real estate bubble.
It has since sold off units AIA and Metlife to pay of its debt to the US authorities.
The Treasury made a total cash investment in AIG of approximately $68 billion through the Troubled Asset Relief Program (TARP), in addition to loans from the Federal Reserve to keep the key financial firm afloat.
After the transaction, the US government's remaining stake in AIG will be $53.1 billion.