The US vice president flew by helicopter into Camp Bonifas, a US-led United Nations command post just a few hundred metres (yards) south of the DMZ, source from Vietnamnews.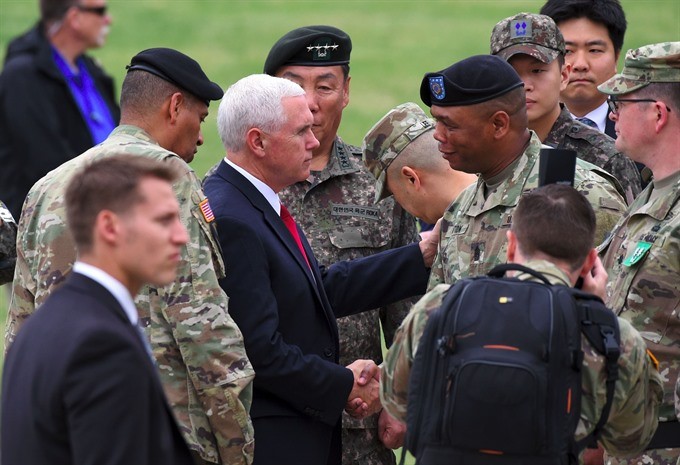 US Vice President Mike Pence (centre L) shakes hands with US military officers upon his arrival at army base Camp Bonifas in Paju near the truce village of Panmunjom during a visit to the Demilitarised Zone (DMZ) on the border between North and South Korea today. Pence arrived at the gateway to the Demilitarised Zone dividing the two Koreas on on April 17, in a show of US resolve hours after North Korea failed in its attempt to test another missile. — AFP/VNA Photo
From there, he was expected to move to the truce village of Panmunjom that straddles one of the most heavily militarised borders on Earth.
"It is particularly humbling for me to be here," Pence told those assembled.
"My father served in the Korean war with the US Army, and on the way here we actually saw some of the terrain my father fought alongside Korean forces to help earn your freedom.
"We are grateful to all of those who each and every day stand in the gap for freedom here at the DMZ."
Tensions
Tensions between Pyongyang and Washington have soared in recent weeks, as a series of North Korean weapons tests have wrought ever-more bellicose warnings from Donald Trump's administration.
The new US president has indicated he will not allow North Korea to develop an intercontinental ballistic missile capable of delivering a nuclear warhead to the western United States.
Pyongyang insists it needs a powerful arsenal -- including atomic weapons -- to protect itself from what it says is the ever-present threat of invasion by hostile US forces.
A top White House foreign policy advisor on Sunday became the latest Trump official to warn that while diplomatic pressure was preferable, US military action is very much on the table.
"We have a wide array of tools at disposal for the president should he choose to use them," the official said.
Speaking on Sunday before a handful of the 28,500 US military personnel stationed in South Korea, Pence denounced the latest North Korea test as a "provocation."
"Let me assure you that under President Trump's leadership our resolve has never been stronger, our commitment to this historic alliance with the courageous people of South Korea has never been stronger and with your help and God's help freedom will ever prevail on this peninsula," he said.
The tests and resultant harsh warnings appear to have put the United States and North Korea -- two nuclear powers -- on a collision course.
North Korea's leader Kim Jong-un has shown no indication he will heed the warnings and abandon WMD programs.
Anniversary
The latest launch -- which failed when the missile blew up seconds after blast off -- came a day after the North held a defiant massive military parade in Pyongyang showcasing nearly 60 missiles -- including a suspected new intercontinental ballistic missile.
The North has a habit of test-firing missiles to mark major dates such as Saturday's 105th anniversary of the birth of the nation's founder Kim Il-Sung, or as gestures of defiance when top US officials visit the region.
South Korea's foreign ministry said that by conducting the latest test just a day after displaying a series of missiles, "North Korea has threatened the whole world".
After visiting the DMZ, Pence is expected to hold talks with South Korea's Acting President Hwang Kyo-Ahn in Seoul.
Pence will try to steer clear of South Korea's tumultuous domestic politics ahead of elections next month.
But he will no doubt address worries in Washington that any new government may slow-walk the deployment of THAAD -- a system designed to shoot down missiles from North Korea or elsewhere.
On Sunday a White House adviser appeared to hint the election could result in some delays.
"As in any government decision, it may slip a couple of weeks or months. It's moving, but candidly until they get president... in the early part of May I think it's rightfully so it should be a decision for the next president."
This is Pence's first visit to South Korea -- part of an Asia swing that also includes stops in Japan, Indonesia and Australia -- and although it was conceived months ago, could hardly come at a time of higher tension.
Away from immediate security matters, Pence will try to reassure allies concerned about Trump's commitment to decades old security guarantees and protectionist rhetoric.