A defiant Iran said on Sunday it would build 10 new uranium enrichment plants as the United States warned the Islamic republic that time for it to meet international nuclear guidelines was running out.
Two days after the UN atomic watchdog condemned Tehran for building a second uranium enrichment plant, state television reported that the cabinet ordered building to begin at five new sites earmarked for enrichment plants.
It also ordered officials to locate sites for another five such facilities over the next two months, the broadcaster's website reported.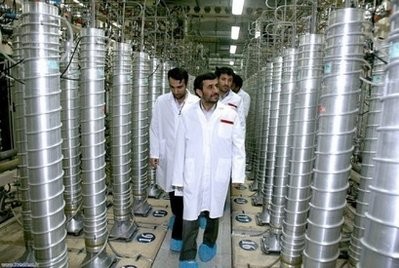 A picture released by Iran's presidency office website shows Iranian President Mahmoud Ahmadinejad visiting the Natanz uranium enrichment facilities in 2008.
Ali Akbar Salehi, vice-president and the head of Iran's atomic organisation, was quoted by the ISNA news agency as saying his team will implement the cabinet's decree.
"The decision taken today is a firm reply to the indecent move by the five-plus-one in the latest IAEA meeting," he said of the P5+1 group comprising the permanent members of the UN Security Council plus Germany.
Earlier on Sunday the conservative-dominated parliament urged the government to reduce ties with the International Atomic Energy Agency for condemning the building of Iran's second uranium enrichment plant near the holy city of Qom.
Friday's IAEA resolution saw China and Russia, which have close links with Tehran, join Britain, France, Germany and the United States in condemning Iran over the Qom plant, being built inside a mountain.
"Ten new enrichment sites will be built. We are as much committed to our rights as we are to our international obligations," Salehi said.
"From now on our enrichment sites will not be built in the open air but in the hearts of mountains... They will not be concentrated in one area... taking into consideration all safety measures from any attacks."
Neither of Tehran's arch-foes, Washington and Israel, has ruled out air strikes against Iranian nuclear sites.
After the cabinet announcement, White House spokesman Robert Gibbs said that time is running out for Iran.
"If true, this would be yet another serious violation of Iran's clear obligations under multiple UN security council resolutions, and another example of Iran choosing to isolate itself," he said in a statement.
"The international community has made clear that Iran has rights, but with those rights come responsibilities," he said.
"Time is running out for Iran to address the international community's growing concerns about its nuclear programme."
Western powers have long suspected that Iran, despite its fierce denials, is trying to build a nuclear bomb.
They object to Tehran's uranium enrichment work which can be used to power nuclear reactors, but in highly purified form it can make the fissile core of an atom bomb.
Iran, already under three sets of UN sanctions for defiantly enriching uranium at its Natanz facility, further infuriated world powers in September when it disclosed it was building the Qom plant.
World powers are also irked at Tehran for refusing a high-profile nuclear fuel deal brokered by the IAEA, which envisages shipping abroad Iran's low-enriched uranium (LEU) for conversion into 20 percent enriched uranium to fuel a medical research reactor in Tehran.
Iran insists it is ready to send its LEU abroad only if there is a simultaneous exchange of fuel inside the country.
President Mahmoud Ahmadinejad's government said on Sunday the government would study a plan to process uranium to 20 percent purity inside the country, state media reported.
The report said Iran wants a nuclear power capacity of 20,000 megawatts, with fuel to be supplied by another 10 uranium enrichment plants the size of the facility in the central city of Natanz.
"We have to reach the level to be able to produce between 250 and 300 tonnes of fuel per year in the country, and for this we need newer centrifuges with a higher speed," Ahmadinejad was quoted as saying.
"Each of these sites will have the capacity to produce fuel for a nuclear plant the size of Bushehr," he added of the nearly complete 1,000-megawatt plant being finished by the Russians in southern Iran.
"The supreme leader (Ayatollah Ali Khamenei) has repeatedly said that we are not seeking nuclear weapons, we have forbidden it and it is 'haram'," he added, using the Islamic term for something forbidden by God.
"We will study producing enriched uranium up to the 20 percent purity at Wednesday's meeting of the cabinet. We have a cordial approach to the world but we will not allow an inch of our nation's right to be wasted," he said.
In Britain a Foreign Office spokeswoman called the Iranian government's plans for new enrichment plants a "matter of serious concern" that would breach UN Security Council resolutions.
In Berlin, a foreign ministry spokeswoman said Germany urged Tehran to "fulfil its obligations towards the international community and to cooperate entirely with the IAEA."