Top US officials Sunday delivered a sharp warning to Afghan leaders to resolve the election crisis, saying it would be irresponsible to send in more US troops without a strong government in place.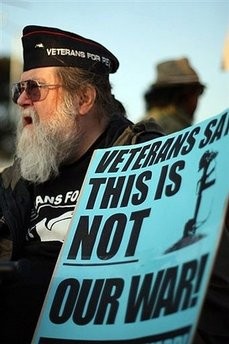 A veteran joins anti-war demonstrators in calling for a troop pullout in Afghanistan as they rally near the Federal Building eight years after the start of the war on October 7, 2009 in Los Angeles, California.

"I think it would be irresponsible and... it would be reckless to make a decision on US troop level if, in fact, you haven't done a thorough analysis of whether in fact there's an Afghan partner ready to fill that space," top White House advisor, chief of staff, Rahm Emanuel told CNN television.

Two months after Afghanistan's August 20 presidential elections, the count has been bogged down by allegations of widespread fraud and ballot-box stuffing mostly in favor of President Hamid Karzai.

Karzai, a key US ally who has led his country since December 2001, is said by preliminary results to have won about 55 percent of the vote.

But amid the fraud accusations, he has come under mounting pressure to accept a run-off against his rival ex-foreign minister Abdullah Abdullah, reported to have garnered about 28 percent of the vote.

The electoral stalemate is complicating a major US policy review ordered by US President Barack Obama on the way forward in Afghanistan, with the number of US troops already set to reach 68,000 by the end of the year.

"It would be entirely irresponsible for the president of the United States to commit more troops to this country, when we don't even have an election finished and know who the president is and what kind of government we're working with," said powerful US Senator John Kerry.

Kerry, chairman of the Senate Foreign Relations Committee and close Obama ally, was speaking during a fact-finding visit to Kabul and led some of the bluntest US criticism to date of Karzai.

The White House is mulling a request by top US and NATO commander on the ground, General Stanley McChrystal, to commit an extra 40,000 troops to Afghanistan to step up counter-insurgency operations.

More closed-door meetings between Obama and top advisors are set for Monday.

But Kerry told CNN Sunday that he was "not yet convinced" about deploying more troops to the increasingly unpopular and bloody conflict, which has claimed the lives of more than 400 coalition troops this year.

"We have a responsibility to make certain that the government here is a full partner in our efforts to be able to be as effective as we can be," Kerry said.

The Islamic hardline Taliban, ousted from power in late 2001 by a US-led invasion, has led an increasing insurgency against more than 100,000 foreign troops under US and NATO command.

"I think this is a moment for President Karzai to frankly step up and help to share with the world a better vision for how the government here is going to deliver and be a full partner," Kerry told CBS's Face the Nation in a separate interview.

He highlighted the need for tangible government reform which he said was "essential to our troops to be able to carry out their mission and to the longer-term interests of our country."

Kerry warned on CNN there was already a "threat of the failure of governance, which is empowering Taliban to be able to recruit people."

A ruling on the election had been expected Saturday, but Afghan officials said the two commissions involved in deciding the outcome are deadlocked on what constitutes fraud.

Kerry said he had been told by Afghan authorities that an election run-off could be organized in two weeks. Obama has meanwhile promised that his review will be complete in the coming weeks.

The White House is also focusing efforts on rooting out Al-Qaeda linked militants, most said to be sheltering in the lawless border region of Pakistan.

"We would love the luxury of this debate to be reduced down to just one question, additional troops, 40,000. This is a much more complex decision," chief of staff Emanuel insisted on CNN.

"Before you commit troops, which is not irreversible, but puts you down a certain path, before you make that decision, there's a set of questions that have to have answers that have never been asked," Emanuel argued.

"And it's clear that after eight years of war, that's basically starting from the beginning. And those questions never got asked."