SINGAPORE, June 5, 2010 (AFP) - The United States said Saturday it was weighing fresh steps to hold North Korea to account over the sinking of a South Korean warship, after Seoul appealed for UN intervention.
Washington "is assessing additional options to hold North Korea accountable", apart from the UN Security Council route and planned military exercises with South Korea, Defense Secretary Robert Gates said in Singapore.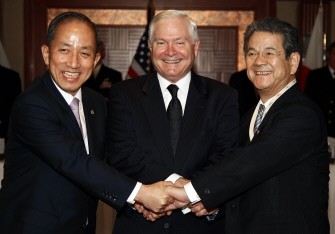 US Defense Secretary Robert Gates (C), Japan's Minister of Defense Toshimi Kitazawa (R) and South Korean Defense Minister Kim Tae Young pose during the Shangri-La Dialogue's Asia Security Summit in Singapore on June 5, 2010. AFP photo
He did not specify what the new measures might be but, in an apparent message to China, warned of the risks of inaction after North Korea's alleged torpedo attack on the ship in March which killed 46 South Korean sailors.
South Korea on Friday formally asked the UN Security Council to respond to the sinking, after President Lee Myung-Bak called the attack on the Cheonan corvette a "military provocation".
Addressing the same Singapore conference as Gates, Lee dismissed Pyongyang's denials of involvement as "laughable" but he stopped short of calling for specific sanctions on the North.
Gates said the sinking, which an international investigation blamed on Pyongyang, was not an isolated incident but "part of a larger pattern of provocative and reckless behaviour" by the North.
The Pentagon chief, speaking at the annual Shangri-La Dialogue on Asian security, called on countries in the region to respond to North Korea's "dangerous provocations".
Gates pledged "full support" to South Korea at a "difficult hour" but avoided talk of any US or allied military response.
The South Korean and US navies were scheduled to hold a joint anti-submarine drill next week, to be joined by the nuclear-powered aircraft carrier USS George Washington, as a show of force against North Korea.
The exercise has now been postponed, South Korean officials said Friday, and Gates suggested a delay would allow time for UN diplomacy to play out.
He also said that Seoul might seek a Security Council letter denouncing Pyongyang instead of a full-fledged UN resolution.
Such a diplomatic strategy is "not a manifestation of a lack of recognition of the nature of the provocation we have seen from North Korea, but may be more addressed to the worry about provoking further instability and further provocations from the North", he said.
Seoul's ambassador to the UN, Park In-kook, said he handed a letter to Mexican ambassador Claude Heller requesting "action by the Security Council commensurate with the gravity of the situation".
Heller, who is chairing the Security Council this month, said he would begin consultations with other council members to provide an "appropriate answer" to the request.
In his letter, Park described North Korea's "armed attack" against the Cheonan as "a flagrant violation" of the UN Charter, the 1953 armistice accord that ended the Korean War, and a 1992 bilateral non-aggression pact.
"As such the attack constitutes a threat to the peace and security on the Korean peninsula and beyond," the South Korean envoy said.
Tensions have soared on the peninsula since the multinational probe last month said a North Korean torpedo sank the Cheonan, triggering trade reprisals from South Korea and bellicose rhetoric from the communist North.
On Thursday, a North Korean diplomat warned that tensions were running so high that war might break out "at any moment".