US Secretary of State Hillary Clinton on Monday described her country's alliance with Japan as a "cornerstone" of US foreign policy in a first meeting with her Japanese counterpart Katsuya Okada.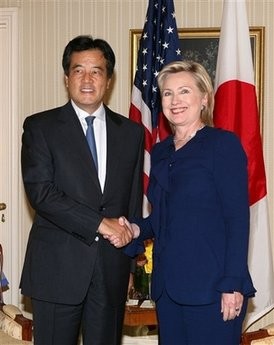 U.S. Secretary of State Hillary Rodham Clinton right, meets with Japan's Foreign Minister Katsuya Okada at the Waldorf Astoria Hotel in New York Monday, Sept (AFP Photo)
"The alliance between the United States and Japan is a cornerstone of our foreign policy, and indispensable to the security and prosperity of the Asia Pacific," Clinton said in New York.
"I look forward to working with him (Okada) to develop and strengthen even stronger bonds, partnership, friendship and alliance in pursuit of our common values and a future that we hope will be even better," she added.
Clinton, in New York for the United Nations general assembly meeting this week, held talks with Okada after dispatching her top official on the region to meet with the new Japanese government.
Kurt Campbell, assistant secretary of state for East Asia and Pacific affairs, said Monday that the United States wants "to underscore how important it is for us to get off to a good start in the US-Japanese relationship."
Campbell said he had promised that the United States would listen to how Tokyo now intends to undertake a review in the relationship.
"We told our Japanese friends how we're going to conduct our business in public. We are going to be very clear about how important it is to respect each other as equals," he said.
"The United States intends to underscore its support of a strong and independent Japanese foreign policy," Campbell said.
But he added that in private the US administration would "underscore areas where we think continuity on policy is important."
US President Barack Obama will meet with new Japanese Prime Minister Yukio Hatoyama for the first time on Wednesday on the sidelines of the UN general assembly.
Hatoyama was sworn in as prime minister last week after his center-left Democratic Party of Japan (DPJ) won the country's elections by a landslide.
The DPJ's victory ended more than half a century of almost unbroken rule by the conservative Liberal Democratic Party (LDP), and party leaders have already signaled they want a "more equal" relationship with the United States.
The new coalition government sworn in Wednesday is seeking to strike a balance between the demands of some of its own left-leaning and pacifist members, and the desire to maintain the traditionally strong US alliance.
The DPJ has also said it would not renew a naval refueling mission that supports US-led operations in Afghanistan when it expires in January.
Foreign Minister Okada hinted Sunday that Japan could offer more development aid to Afghanistan in place of the naval support mission.
"If Japan can generate the situation where Taliban soldiers on the frontline would be able to feed their family members and offer education, then the situation in Afghanistan will change," he said.
"There is a significant number of people who work for Taliban to earn money."
Clinton denied Monday that a Japanese refusal to renew the naval refueling mission would deal a serious blow to bilateral relations.
"Our relationship... is so broad and so deep that there isn't any one issue that defines it. It is comprehensive and it has stood the test of time for many years," she said.