MONTEVIDEO, July 27, 2010 (AFP) - Venezuela said Tuesday it sees the possibility of restoring ties with Colombia if the new president taking office in Bogota next month adopts a less hostile tone.
Venezuela's Foreign Minister Nicolas Maduro, speaking during a visit to Montevideo, opened the door to improved relations after Colombia's president-elect Juan Manuel Santos, takes over from Alvaro Uribe on August 7.
"If the new Colombian government fully rectifies (its position) and adopts a posture of absolute respect for Venezuela's government and out country, we are sure we can build a new path," Maduro said.
The comments came after days of an escalating diplomatic row that saw the two South American neighbors break off relations over Bogota's accusations that Venezuela was harboring leftist guerrillas engaged in a decades-long battle against the Colombian government.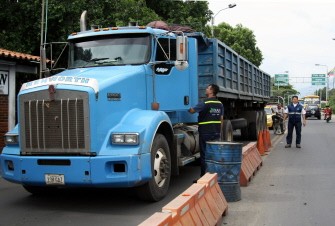 Customs officers inspect a truck crossing the Francisco de Paula Santander bridge that connects Colombia with Venezuela, in Cucuta, Colombia on July 27, 2010. AFP
Maduro's stop in Uruguay was the third on a diplomatic tour of the region, which has included Brazil and Paraguay. He is due for talks in Argentina, Chile and Bolivia before arriving in Ecuador for a meeting of foreign ministers of the regional body Unasur.
Maduro has indicated he would offer a "peace plan," the details of which have not been specified, for what he said was 60 years of conflict in Colombia and which has spilled over to Venezuela.
In Bogota, Uribe dismissed the notion of a peace plan from Caracas, saying it could be a ruse to "loosen the grip of the snake" without ensuring security for his country.
"We're not going to fall into that trap," he said.
"We are asking the international community to follow the same standards we are following: fighting terrorism and not allowing it to take root anywhere."
Colombian Foreign Minister Jaime Bermudez said meanwhile in an interview with Ecuadoran television that the new government in Bogota may find it easier to deal with the question but that the current government must live up to its responsibility.
"Our political and constitutional responsibility continues until August 7," he said.