The foreign ministers of Venezuela and Cuba are leading a delegation of leftist Latin American countries to Syria to meet Sunday with Syria's President Bashar al-Assad in a show of support.
The eight-member ALBA bloc's talks aim to "reject invasion and political destabilization attempts of the country by the United States and its allies," Venezuelan Foreign Minister Nicolas Maduro said in state news agency AVN.
"We reject all forms of interventionism that the empire is trying to apply as it did in Libya for a violent process of regime change," he added from Geneva.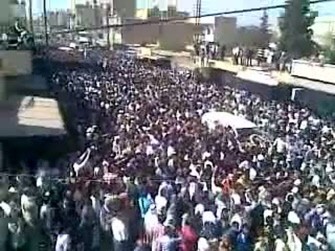 An image grab taken from a video uploaded on YouTube shows the funeral on October 8, 2011, of Kurdish activist and opposition spokesman Meshaal Tamo, 53, after he was killed in the city of Qamishli in northern Syria activists said.
Representatives of Venezuela, Cuba, Ecuador, Nicaragua and Bolivia led by Maduro and Cuba's Foreign Minister Bruno Rodriguez are traveling to Damascus to "support the Syrian people in their search for stability."
ALBA is sending the diplomatic mission amid fears of a repeat of the same conflict that saw Libyan leader Moamer Kadhafi removed from power.
Antigua and Barbuda, Dominica and Saint Vincent and the Grenadines are also members of the alliance of leftist Latin American and Caribbean countries.
Washington has renewed its calls for Assad to step down immediately amid escalating violence against anti-regime protesters that has left nearly 3,000 people dead.