There's nothing Hugo Chavez relishes more than addressing the nation for hours on end, and on Thursday the loquacious Venezuelan leader seized the airwaves like never before.
Chavez began what he said will be a four-day "Hello President" radio and television show celebrating the 10th anniversary of the program that has been widely emulated by other Latin American leaders.
"There's no program like this one," Chavez boasted as he launched the live program while standing outdoors at an electrical plant in western Venezuela. Chavez said the show would run through Sunday, with some breaks of unspecified duration.
"We're starting in the sunshine. We'll probably have a program in the rain," Chavez said. "We might have an episode at midnight, in the early morning. Keep an eye out."
The marathon could threaten what Chavez says is his own personal record of talking for more than eight hours straight one Sunday in 2007.
"Hello President" was first broadcast on the radio on May 23, 1999, a month after Chavez took office. State television began airing the show the following year, and it has become a pillar of efforts to counter what the president calls one-sided reporting by private news media.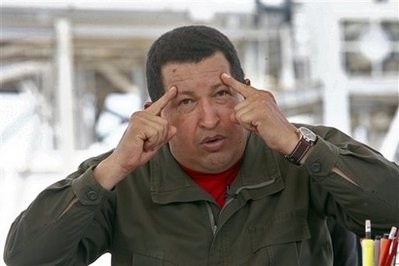 Venezuela's President Hugo Chavez
Other Latin American leaders — from former Mexican President Vicente Fox to current Ecuadorean leader Rafael Correa — subsequently launched their own weekly broadcasts, but none has managed to duplicate the unpredictable Chavez's ability to pull an audience.
Chavez has often burst into song, hugged visiting Hollywood celebrities and scolded careless camera operators while preaching his own brand of socialism.
Watchers are likely to see Chavez chat by phone with Fidel Castro, invent colorful epithets for former U.S. President George W. Bush and unexpectedly announce the seizure of major industries before veering off into a lengthy ramble about steel output. He spoke for about 30 minutes on Thursday about the production of sardines in eastern Venezuela. Shows typically last four to six hours each Sunday.
One show opened onboard a military helicopter in flight, recalled Andres Izarra, a former information minister who ran the program for two years.
"Every 'Hello President' is an adventure," Izarra said.
After kicking off Thursday's show, Chavez said the program "always attempts to be like a school — a school in which we all learn" and joined a chorus of children to sing a ballad celebrating the country's varied geography and culture.
"The world is full of beauty but it's also full of danger," Chavez said later, telling the kids to resist pressure to try alcohol, illegal drugs and adolescent sex. "Everything at its moment," he added in a fatherly tone.
Chavez chuckled as he remembered the first time he was to appear on a television talk show, and how he initially resisted when studio assistants told him they needed to put makeup on him. "'What would my people think?' I thought. Makeup?" he said.
Chavez's close friend and mentor Fidel Castro — himself a master of marathon speechmaking — congratulated the Venezuelan president Thursday: "Never has a revolutionary idea made use of a medium of communication with such efficiency," the 82-year-old Cuban leader wrote in his country's official newspapers.
Chavez grasped the power of the media as the leader of a failed coup attempt in 1992, when he surrendered in exchange for TV time to address the country.
The rebellious army lieutenant colonel famously told viewers the uprising was over "for now," and instantly became a hero to Venezuelans who felt abandoned by entrenched political parties that had traded power for decades.
"Chavez is a pioneer in the way he uses the media to advance his agenda," said Andres Canizalez, a communications professor at Andres Bello Catholic University.
Chavez has gradually expanded state media — especially television, where five state-run channels now broadcast on the airwaves, compared with just one when he took office.
Two of Venezuela's four most-viewed television networks, meanwhile, have curbed criticism of the government since Chavez accused them of supporting a 2002 coup that briefly ousted him. A third moved to cable in 2007 after the president refused to renew its broadcast license.
Critics complain Chavez seems omnipresent on the airwaves, but his allies defend the president's media savvy.
"Defeating the media circus and disinformation are permanent tasks," said Izarra, now president of Telesur, a Caracas-based regional news channel mostly financed by Venezuela that was launched as a Latin American alternative to private media outlets such as CNN.