Venezuelan President Hugo Chavez on Monday slammed Libyan rebels as "terrorists" and called on other countries to cut ties with the opposition council opposing Moamer Kadhafi's regime.
"Not only do we refuse to recognize the pantomime that is the Transitional (National) Council... We say that European and other countries have recognized a group of terrorists... and given them legitimacy," he said.
He went on to say during a widely broadcast meeting with ministers that such recognition "destroys the foundation of international law" because it would pave the way for the elevation of other opposition groups.
"It's very dangerous, and it could happen to all kinds of presidents. Tomorrow it could be any of us... This cannot be tolerated."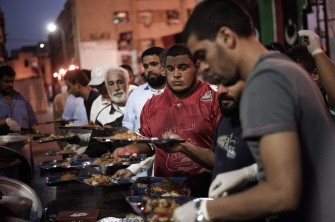 Libyan men get trays of food to break their fast at the end of the first fasting day of Islam's holy month of Ramadan in the rebel stronghold of Benghazi on August 1, 2011
Chavez then read from a letter sent to him by Kadhafi in which the Libyan leader praised Venezuela for its support and expressed hope that the international community would turn on the rebels.
On July 15 Western and regional powers designated the Benghazi-based NTC as the country's legitimate rulers, a move that gives them access to vital funds.
The United States, which in June declared the NTC "the legitimate interlocutor" of the Libyan people, said Venezuela should join the international community in pressing Kadhafi to step down.
"I would hope (Chavez) urged Kadhafi to step down and allow a democratic transition to take place," US State Department spokesman Mark Toner said in Washington.
An envoy from Kadhafi's increasingly isolated government arrived in Venezuela late Sunday, but Chavez said due to medical reasons he would not be able to meet with him.
Chavez, 57, is undergoing chemotherapy after a June 20 operation in Cuba to remove a cancerous tumor and has drastically limited his public appearances.
The firebrand socialist -- Kadhafi's main supporter in Latin America -- has consistently denounced the months-long military operation in Libya, claiming it is an oil grab by Western powers.
Chavez in 2004 was awarded the Al-Kadhafi International Prize for Human Rights, a prize granted by the Libyan leader. Cuba's Fidel Castro and Nicaragua's Daniel Ortega have also won the award.
bur-jk/rl