Venezuelan President Hugo Chavez is set to meet with Russian President Dmitry Medvedev and Prime Minister Vladimir Putin on Thursday and Friday in Moscow, reported RIA-Novosti.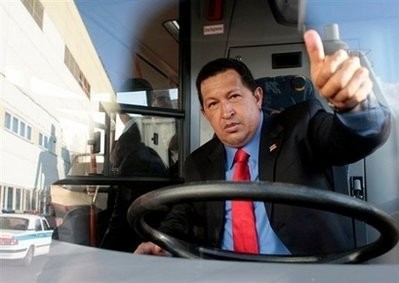 Venezuelan President Hugo Chavez gestures during a visit to the Minsk Automobile Plant in Belarus (AFP Photo)
Chavez, who arrives in Russia on Thursday, is expected to discuss with Medvedev and Putin energy and military cooperation, including major projects to produce, refine and export oil.
Chavez has recently announced plans to buy dozens of Russian tanks in response to the U.S.. deployment of military bases in neighboring Colombia, aimed at curbing the country's flourishing drugs trade and the activity of FARC guerillas.
Between 2005 and 2007 Russia signed 12 contracts worth more than $4.4 billion to supply arms to Venezuela, including fighter jets, helicopters and Kalashnikov assault rifles, which raised concerns in Washington.
This is Chavez's seventh visit to Russia as president. He came to the country twice last year alone. Medvedev visited Venezuela last November, the first visit to the Latin American country by a Russian leader in the more than 150 years they have had diplomatic relations.

Russia could give Venezuela a loan for a new arms contract, a senior Kremlin official said on Wednesday.
"We do not rule out a loan for Russian weaponry supplies," Sergei Prikhodko said.
Prikhodko, however, said no new arms contracts would be signed during Chavez's two-day visit, which is part of his 11-day foreign tour.
He said however that a package of around 10 agreements designed to boost cooperation would be signed during the visit. This includes an agreement on the mutual protection of intellectual property rights in military cooperation and an agreement between the two Defense Ministries covering personnel training and military exchanges.
In the energy sector, a memorandum of understanding on long-term cooperation in developing Venezuela's Orinoco oil belt will also be signed.
Russian Deputy Prime Minister Igor Sechin said on Wednesday Russia and Venezuela were discussing Russian oil supplies to refineries owned by the Latin American country's state oil firm PdVSA as part of a joint venture being established by a consortium of major Russian crude producers and PdVSA.
The country's ambassador to Russia, Hugo Jose Garcia Hernandez, said on Tuesday the visit "is designed to reaffirm the strategic level of relations between the two major energy producers."
Hernandez said that while in Moscow Chavez would also take part in a Russian-Venezuelan business forum and deliver a lecture at a university.
As part of his tour, Chavez has already visited Libya, Algeria, Syria, Iran, Turkmenistan and Belarus.