The Venice film festival kicks off late Wednesday with an Italian movie for the first time in 20 years, with the latest picture from "Cinema Paradiso" director Giuseppe Tornatore.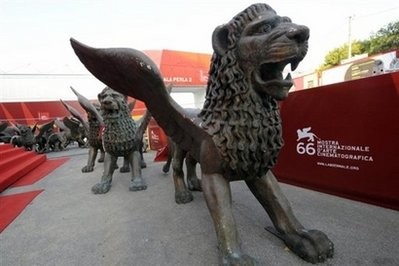 Statues of lions await near the red carpet entrance of the 66th Venice film festival on the eve of its opening, on September 1. (AFP Photo)
"Baaria" is an epic love story set in the Sicilian village where Tornatore grew up, covering three generations of joys and sorrows.
Ennio Morricone, who scored the spaghetti westerns of Sergio Leone, wrote the soundtrack for "Baaria" more than 20 years after that of "Cinema Paradiso," which won the Oscar for best foreign film in 1989.
Later in the 11-day festival, Michael Moore unleashes his acerbic wit on the world financial crisis and US fashion designer Tom Ford makes his directorial debut.
Moore's "Capitalism: A Love Story" is among 24 selections competing for the Golden Lion award at this year's Mostra, the world's oldest film festival.
"It's got it all -- lust, passion, romance and 14,000 jobs being eliminated every day," says the Oscar-winning Moore, whose past targets have included President George W. Bush, the US health care system and the gun lobby.
Ford's "A Single Man" is based on Christopher Isherwood's 1964 novel about a British professor in California mourning the recent death of his homosexual partner.
Starring Colin Firth and Julianne Moore, it is the first film by 48-year-old Ford, a former Gucci designer.
The jury for the 66th Mostra will be chaired by Taiwanese filmmaker Ang Lee, the Oscar-winning director of "Brokeback Mountain," which also won in Venice in 2005.
In all more than 80 films will be presented at the prestigious festival, which has a strong American presence both in and out of competition.
US stars include Nicolas Cage as a new "Bad Lieutenant," this time in New Orleans in Werner Herzog's film which the German director insists is not a remake of Abel Ferrara's 1992 cult thriller with the same title.
Also out of competition, Hollywood heartthrob George Clooney stars with Ewan McGregor, Jeff Bridges and Kevin Spacey in "Men Who Stare at Goats," set in Iraq, and Matt Damon stars in Steven Soderbergh's comedy "The Informant!"
"The Wrestler," starring resurgent American actor Mickey Rourke, won the Golden Lion last year.