Angela Merkel set to work Monday on a new centre-right coalition after clinching a second term, but warned Germans of a hard road ahead to revive the sickly economy and rescue vanishing jobs.
The conservative chancellor secured another four-year mandate with enough votes to dump an awkward "grand coalition" with the Social Democrats (SPD) for an alliance with the pro-business Free Democrats (FDP).
"We want to use this opportunity in an economically difficult time to save jobs, create new jobs and boost growth decisively," said Merkel, Germany's first female leader and its first chancellor from the former communist east.
"I am very satisfied and happy with yesterday's results and intend to start the new legislative term full of momentum and energy," she told reporters at the headquarters of her Christian Democrats (CDU) Monday. Reax: World leaders congratulate Merkel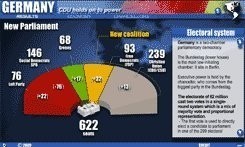 Interactive graphic on Germany as Chancellor Angela Merkel sets to work on a new centre-right coalition after clinching a second term.
Voters on Sunday rewarded the 55-year-old leader, dubbed most powerful woman on Earth by Forbes magazine for four years running, for shepherding Europe's biggest economy through its worst post-war downturn.
Although the popular Merkel savoured her victory, the daily Tagesspiegel said the 33.8-percent result by the CDU and its Christian Social Union (CSU) affiliate, their worst since 1949, marked a "black eye" for the chancellor.
It took the FDP's record 14.6-percent score to give the alliance a majority in parliament. The champions of free trade and lower taxes will return to power for the first time since conservative Helmut Kohl led Germany 11 years ago.
FDP leader Guido Westerwelle aims to become the country's first openly gay foreign minister.
He told a news conference that he would actively support US President Barack Obama's disarmament efforts and work to get Europe's top economy back on its feet with tax cuts despite mounting public debt.
"We will of course be persistent about our electoral platform in negotiations (on a coalition)," he said.
"Fair taxes do not endanger state finances, to the contrary, they are the precondition for economic growth, jobs and indeed healthy state finances."
An analyst from polling institute Allensbach, Renate Koecher, said the FDP's election-night tally may have been inflated by voter tactics.
"A big part of their success can be explained by the fact that CDU voters wanted to make sure that the grand coalition would not return," she said.
Merkel's bloc and the FDP have a comfortable 332 seats in the 622-member parliament. The chancellor and Westerwelle were to meet behind closed doors Monday, with the coalition expected to be formed within about a month.
The SPD with Frank-Walter Steinmeier, the outgoing foreign minister, as candidate for chancellor, crashed to 23 percent, its worst post-war result, and will be consigned to the opposition benches after 11 years in government.
Merkel identified her "top priority" as tackling unemployment, which stands at 8.3 percent but is forecast to surge in the months ahead, as firms lay off workers on part-time schemes.
Holger Schmieding, head of European economics at Bank of America Merrill Lynch in London, said the vote was "not a revolution."
He did not forecast dramatic changes but said: "There will be some tax reforms over the next four years, and there will probably be some move towards deregulation modestly in the labour market, and probably some changes in the health-care system."
On top of its success in the race for the Bundestag lower house of parliament, the centre-right appeared to do well enough in two state polls held Sunday to give the alliance a majority in the Bundesrat upper house, assuring smoother passage of legislation.
On foreign policy, Germany's mission in Afghanistan is highly unpopular and could become a major domestic headache for Merkel if an insurgency in the north where its 4,200 troops are based continues to escalate.
The deployment in Afghanistan prompted a series of threats from Al-Qaeda leader Osama bin Laden and German-born Islamic extremists before the elections.