Vietnam vehemently condemns bloody attacks on civilians in France's Paris on November 13 that have caused heavy casualties, Foreign Ministry Spokesman Le Hai Binh said.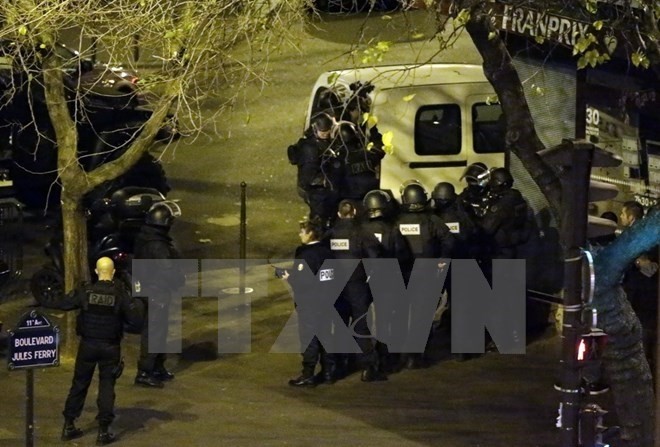 Police seal off Square Jules Ferry in downtown Paris in the wake of a series of attacks on November 13 (Photo: AFP/VNA)
"Vietnam is shocked and strongly condemns the bloody attacks aiming at civilians on November 13 that have killed and wounded many people," Binh said on November 14 in reply to reporters' queries on Vietnam's response to the attacks.
Vietnam shares the great losses that the French Government, people and families of the victims are suffering, he noted, adding that "we believe with efforts made by the French Government and people, culprits will be punished justly".
Regarding the situation of Vietnamese citizens in Paris, the spokesman said shortly after being notified about the incidents, Deputy Prime Minister and Foreign Minister Pham Binh Minh ordered the Vietnamese Embassy in France to immediately liaise with local relevant agencies to learn about the situation of Vietnamese people at the sites of the attacks.
The Deputy PM requested that in case there are Vietnamese victims, the Embassy must coordinate with French authorised agencies to provide support for and protect the citizens, Binh added.
On November 14's morning, the Vietnamese Embassy in France cited the French foreign ministry's crisis centre as saying that there hadn't been details about the nationalities of the dead and injured. It is closely following related developments to swiftly take measures ensuring the protection of citizens in case there are victims confirmed as Vietnamese nationals.
The Embassy set up two hotlines for receiving information about possible Vietnamese victims: 00.33.67.7622624 and 00.33.66.3541759.
Related information can also be notified via another two hotlines of the Vietnamese Foreign Ministry's Consular Department: 084.4.62844844 and +84981848484.-VNA