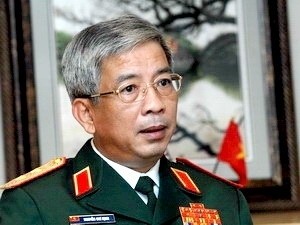 Sen. Lieut. Gen. Nguyen Chi Vinh (Source: VNA)
The 4 th Vietnam-Singapore Defence Policy Dialogue is taking place in Hanoi from January 8-10.
The Vietnamese delegation is led by Sen. Lieut. Gen. Nguyen Chi Vinh, Deputy Minister of National Defence, while the Singaporean delegation is headed by Chang Chi Phu, Permanent Secretary of the Singaporean Ministry of Defence.
At the dialogue, the two sides exchanged views on regional and world security situations and assessed bilateral defence ties during 2011.
The two sides agreed that in 2012, they will continue to exchange military delegations at all levels and further boost cooperation in the naval sector, English training, defence industries and military trade.
They also agreed to organise the next dialogue in Singapore this year.