LONDON (AFP) – All London flights, including those from Heathrow, will be suspended from noon (1100 GMT) Thursday due to volcanic ash from Iceland that has already caused almost 300 cancellations here, officials said.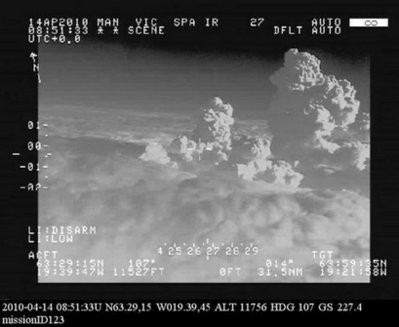 This radarcapture obtained from the Icelandic Coastguard on April 14, shows volcanic clouds emanating from an eruption under the Eyjafjallajokull glacier. AFP photo
"All flights in and out of Heathrow and Stansted will be suspended from midday but the terminals will remain open," a spokeswoman for airports operator BAA told AFP.
"Gatwick airport is subject to a London-wide suspension of all flights arriving and departing from midday," a spokesman for Gatwick said.