REYKJAVIK, April 23, 2010 (AFP) - Ash from an Icelandic volcano that caused Europe to close its skies forced the Nordic country's main airport to shut Friday, as international tourism chiefs said the crisis had cost their industry 1.7 billion euros.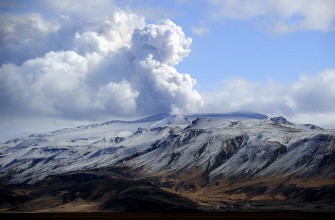 Smoke and ash bellow from Eyjafjallajokull volcano as it is seen from Hvolsvollur, Iceland, on April 23, 2010. AFP photo
Nine days after the Eyjafjoell volcano erupted, a change in wind direction meant that Reykjavik's Keflavik Airport was forced to halt its operations for the first time as ash drifted across the capital.
Although the airport is little more than a hundred kilometres (65 miles) from the epicentre of the Eyjafjoell, it had previously escaped its impact, remaining open to trans-Atlantic flights throughout the crisis.
Despite blazing sunshine and clear blue skies over the capital Reykjavik, the Civil Aviation Administration said the restrictions were necessary.
"The wind has changed and brought the ashes to Reykjavik and Keflavik," Isavia spokeswoman Hjordis Gudmundsdottir told AFP.
"The main issue is the ashes in the air. You don't see them, but they are in the air, in the zone where the planes fly."
The closure order was initially due to be lifted at 1200 GMT but authorities later announced that it would remain in force at least until 0600 GMT Saturday.
Overflights at an altitude of over 20,000 feet (6,000 metres) remain authorised, the spokeswoman added. International flights are being rerouted mostly via Glasgow in Scotland, with a connection to a small airport in northern Iceland, at least four hours by road from the capital.
Easterly winds bringing the Reykjavik area into the ash zone were forecast to continue for several days.
Experts have said the volcano is losing intensity but that it is impossible to predict exactly when it will stop erupting.
An AFP reporter said the plume from the volcano appeared mostly white Friday, indicating more steam than ash.
Eyjafjoell's eruption April 14 scattered ash across much of northern and western Europe, triggering the biggest disruption to aviation since World War II.
The international airline industry's umbrella body, IATA, said the shutdown cost carriers some 1.7 billion dollars (1.3 billion euros) and urged governments to pick up at least part of the cost, furious at their handling of the crisis.
Now the World Tourism Organisation says the cost to its industry is even bigger, putting the overall losses at 1.72 billion euros.
Without even taking into account the cost to the industry outside Europe, daily losses were about 400 million dollars, the organisation's secretary general Taleb Rifai told a news conference in Madrid.
Finnish airline Finnair said Friday it had lost an estimated 20 million euros (26.7 million dollars) and cancelled over 1,700 flights during the closure.
All major airports have now reopened across Europe and the number of flights is back at normal levels.
"The news is encouraging. For the second day in a row we are expecting 28,000 flights in European air space," said EU Transport Commissioner Siim Kallas, a figure that reflects the normal weekday average.
However tens of thousands of European travellers remain scattered across the globe.
Belgium's foreign ministry for example said that more than 5,000 of its citizens were still stranded, including 2,000 in Tunisia and a similar number in Egypt.
Some 500 British Muslim pilgrims to Mecca meanwhile remained stranded in Saudi Arabia's Jeddah airport, complaining of little help from the government or airline officials, a British diplomat said.
The Irish low-cost carrier Ryanair initially said it would only refund passengers for their tickets but later said it would comply with EU regulations and reimburse customers for accommodation and food after an outcry.
Meanwhile the Spanish presidency of the European Union on Friday announced a special meeting of EU transport ministers on May 4 in Brussels to discuss ways to further integrate air traffic control in Europe.
The past week of air travel chaos has "laid bare the need for common reflection in order to improve the way Europe responds" to such situations, Spanish Transport Minister Jose Blanco said.