BAGHDAD, Jan 31, 2009 (AFP) - Voting in Iraq's provincial elections began on Saturday amid tight security in the nation's first ballot since 2005, expected to test the nation's recent security gains and its fledgling democratic system.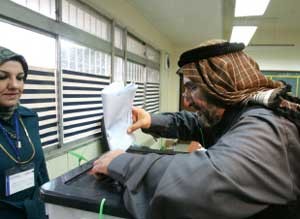 An Iraqi places his ballot in the box at the Salhiyeh polling station in central Baghdad on Jan. 31 (AFP PHOTO)
About 15 million eligible Iraqis have been called to cast ballots in 14 of 18 provinces at thousands of voting centers that opened at 7 am (0400 GMT) and will close at 5 pm (1400 GMT).
"I hope that the results will lead to new provincial councils that work for the interests of citizens," said Hashem Karim, a voter waiting in a queue at a polling station in Nasiriyah, 375 kilometers (230 miles) south of the Iraqi capital.
Adnan al-Janabi, 55, a retired voter in Baghdad, who had not slept in order to be first at the voting station in the neighborhood of Salhiyah, said voting was key to his nation's democratic experience.
"I want this experience to be a success, and that there will no fraud. When I left my house, I knocked on the door of my neighbor, and woke up my children, because we have to participate in this democratic process."
Saturday's election is seen as a key test of Iraq's steadily improving stability and political system as US President Barack Obama looks to redeploy American troops to Afghanistan.
"Obviously the president will watch the results, and believes that the provincial elections this weekend mark another significant milestone in Iraq's democratic development," White House spokesman Robert Gibbs told reporters on Friday.
Iraq's 800,000-strong police and military have been deployed in strength across the country as part of ramped-up measures aimed at preventing attacks by Al-Qaeda and other insurgents.
Authorities have sealed Iraq's borders, shut down airports and imposed transport bans and night-time curfews as part of the massive security lockdown for the election.
State Department acting spokesman Robert Wood said in Washington observers from the US embassy in Baghdad as well as reconstruction teams composed of US civilians will help monitor the elections.
"Our hopes are that basically the Iraqis have a free, fair, transparent election, free of violence," Wood told reporters.
The United Nations and Iraq's Independent High Election Commission is organizing the elections, with 800 international observers expected to oversee the balloting.
More than 14,400 candidates are standing for 440 seats in councils, which appoint the provincial governor and oversee finance and reconstruction, with a combined budget of 2.5 billion dollars.
Sunni Arabs are expected to turn out in large numbers in a reversal of the January 2005 parliamentary elections they boycotted. The vote is also being seen as a quasi referendum on the leadership of Prime Minister Nuri al-Maliki.
The Shiite premier has emerged in recent months as stronger-than-expected leader, promoting a secular national agenda in response to the sectarian strife that tore Iraq apart in the wake of the 2003 US-led invasion.
Although Maliki is not standing in the election, he has thrown his support behind a list of candidates that make up the State of Law Coalition.
The vote will not include the three autonomous Kurdish provinces -- Arbil, Dohuk and Sulaimaniyah, all in the north.
Elections have been postponed in the oil-rich Kirkuk province, which the Kurds want to incorporate despite fierce opposition by the central government.