Wall Street's worst performance so far in 2010 hit Asian stocks Monday amid fresh concerns over the pace of recovery, while Japan Airlines (JAL) sank to a new low ahead of its expected bankruptcy.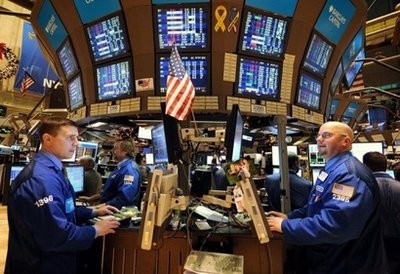 Traders are seen on the floor of the New York Stock Exchange. (AFP Photo)
A dive in oil prices also hit sentiment, as crude tumbled after the International Energy Agency (IEA) last week predicted "sluggish" demand this year in the developed world, with emerging markets accounting for increases.
Doubts about the strength of recovery in the United States, the world's biggest energy user, were raised earlier last week when it reported that crude reserves had increased despite a severe cold snap across much of the country.
In Singapore, New York's main contract, light sweet crude for February delivery fell 34 cents to 77.66 dollars a barrel.
Brent North Sea crude for February delivery was down 34 cents at 76.77 dollars.
New York crude has slid from a 15-month high of 83.95 dollars earlier last week.
"Oil is under pressure primarily from economic considerations," said Victor Shum, a Singapore-based analyst with energy consultancy Purvin and Gertz.
"Some of the economic data out of the US were not really robust and so these data raised doubts about the health of the US consumer and the strength of the US economy."
Tokyo was off 1.16 percent, or 127.02 points, at 10,855.08.
JAL plunged 28.6 percent to an all-time low of five yen (five cents) a day before it is expected to file for bankruptcy as it struggles under enormous debts. It is also widely thought JAL will delist its stock.
The carrier's market value is now just 150 million dollars, less than the cost of one new jumbo jet.
While Tokyo has said it will try to ensure its survival during restructuring, investors are expected to lose most or all of their money if it files for bankruptcy.
In the meantime, many short-term speculators are trading the shares to try to make a quick profit, dealers said.
"This has become a pure money game," said Masatoshi Sato, strategist at Mizuho Investors Securities. "There is really no meaning to the level of the shares."
The firm's stock has plunged 95 percent over the past three months. Its highest share price since it began merging operations with small domestic carrier Japan Air Systems was 366 yen, seen in 2003.
Hong Kong was 0.33 percent lower at the break.
Shanghai was 0.32 percent off in early afternoon trade as investors remained cautious ahead of the release of key economic indicators for 2009 later in the week.
However, many markets moved off their morning lows as bargain hunters moved in.
Sydney closed 0.23 percent or 11.5 points higher at 4,911.1 on gains in the financial sector which offset falls among the big miners.
BHP Billiton dropped 0.48 percent to 43.44 Australian dollars (40 US dollars) and Rio Tinto shed 0.38 percent to 78.32.
Seoul added 0.59 percent, or 9.98 points, to 1,711.78.
Singapore was also up, rising 0.31 percent in the afternoon.
Dealers in the region were also absorbing a 0.94 percent fall in New York, the biggest drop this year, where strong earnings data from chipmaker Intel and bank giant JP Morgan failed to lift spirits.
Chinese and Hong Kong stocks were also dented by growing concerns Beijing will further tighten monetary policy to keep a lid on the nation's soaring economic growth.
Analysts said the focus this week will likely turn to upcoming Chinese economic data Thursday "in order to judge whether more tightening measures are required to keep the China economy from overheating."
However, China launched the CSI Cross-Straits 500 Index Monday in a bid to boost financial cooperation in the Greater China region.
The China Securities Index Company said on its website that the market, which covers 500 firms listed in the mainland, Hong Kong and Taiwan, was down 0.98 percent.
Taipei lost 0.23 percent, or 19.07 points, to 8,337.82.
The drop came despite three memoranda of understanding with China going into effect Saturday.
A lead cause of the fall was because financial authorities said they would allow a total of 500 million US dollars worth Chinese institutional investments in the local market, lower than the previously expected one billion dollars.
The euro slid to 1.4378 dollars in Tokyo afternoon trade from 1.4385 in New York late Friday. It rose to 130.77 yen from 130.55. The dollar gained to 90.94 yen from 90.82.
And in Hong Kong gold opened slightly lower at 1,130.30-1,131.30 US dollars an ounce, from Friday's close of 1,135.00-1,136.00 dollars.

In other markets:
-- Manila dropped 0.39 percent, or 12.17 points, to 3,106.30.
"There's nothing in the local front to move the market," Joseph Roxas of , Eagle Equities said, adding the market was likely to look for overseas cues.
-- Wellington fell 0.33 percent, or 10.85 points, to close at 3,247.10.
Leading stocks were the main losers, with Fletcher Building falling 20 cents to 8.11 dollars and Contact Energy down eight cents at 6.10.