The parliament of Wallonia, a region of Belgium, organised a discussion session on December 1 on the Vietnam-European Union (EU) Free Trade Agreement (EVFTA) at Namur city, the region's capital city, at Brussels reported by the Vietnamnews.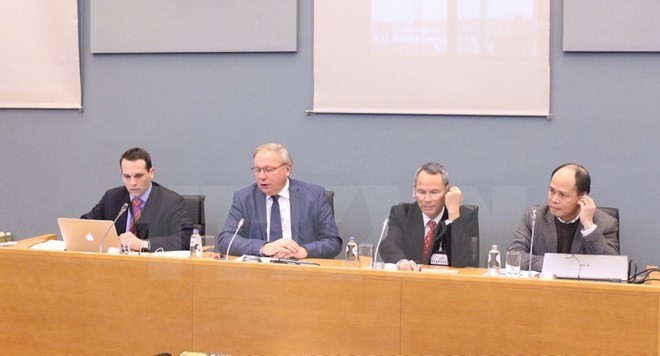 The scene of the discussion session. (Source: VNA)
The discussion was an important step to prepare for the parliament and the government of Wallonia to appraise, review and give their opinions on the EVFTA.
Vietnam's Ambassador to Belgium and head of the Vietnamese delegation to the EU Vuong Thua Phong attended and spoke at the session.
Phong stressed that the EVFTA is the first new agreement the EU negotiated and signed with a developing country and is a comprehensive, balanced and win-win agreement.
The ambassador highlighted the traditional friendship and cooperation relationship between Vietnam and Belgium in general and the Wallonia region in particular. He expressed his hope that the region will support the agreement.
Phong answered questions from MPs and affirmed Vietnam will continue with comprehensive reform and international integration, during which the country attaches importance to developing relationships with the EU and Belgium, including the Wallonia region.-