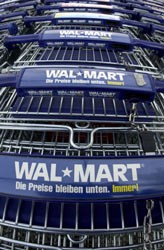 Picture taken 30 September 2003 shows shopping carts of the US retail titan Wal-Mart at the biggest shopping park Saalepark of the former East German states in Guentersdorf (AFP Photo)
Wal-Mart has struggled to establish itself in Germany which was its third-largest market after the United States and Japan, but the announcement still came as a surprise.
Analysts said the US titan had too few stores properly to develop the brand in Germany, while Wal-Mart itself blamed weak consumer demand for the decision.
"It has become clear that under the current economic conditions in Germany it is hard for us to achieve the size and results we are aiming for," said Michael Duke, vice-chairman of Wal-Mart Stores.
Hans-Joachim Koerber, the CEO of Metro AG, said the addition of the stores would strengthen its brand.
"With this acquisition we complement our store network and increase our power in the German market," he said in a statement.
The withdrawal from Germany will leave Britain, where it operates mainly under the Asda name, as Wal-Mart's only European market.
Wal-Mart had also run into difficulties with Germany's social policy.
A court ruled last year against the company's attempt to introduce a telephone hotline for employees to inform on their colleagues.
Wal-Mart entered the German market in 1998 when it acquired 21 stores from Wertkauf and added 74 units of the Interspar hypermarket chain a year later.
But analysts said 85 stores were not enough to give the Wal-Mart brand a foothold in the German market.
Merck Finck and Co bankers said the chain had "limited critical mass, insufficient square metre productivity and a too aggressive pricing policy".
At WestLB bank, Nils Becker said the decision was a surprise but hailed Metro's decision to purchase the stores as a positive move although he noted it still has "certain issues to sort out in order to integrate the shops".
The announcement capped a difficult week for Wal-Mart, which may have to increase the pay of its employees in the United States after Chicago's city council approved a measure that would force retailers to raise the minimum wage.
Wal-Mart is more than three times bigger than its nearest competitor, according to a study of the world's retailers released in April.
The Deloitte 2006 Global Retailing Powers study showed it had sales of 285 billion dollars (361.5 billion euros) in 2004-5, dwarfing its nearest rival, France's Carrefour.
Source: AFP