BANGKOK, Oct 18, 2011 (AFP) - Thai troops raced Tuesday to pile more than a million sandbags onto floodwalls on the edge of Bangkok due to renewed concern that the defences might not hold back the worst inundation in decades.
Prime Minister Yingluck Shinawatra, facing the first major test of her two-month-old premiership, has expressed confidence that the low-lying capital will be spared from floods that have killed at least 315 people in the kingdom.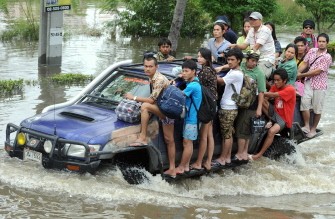 Thai factory workers stand on a pickup truck as they evacuate a flooded area of Nava Nakhorn industry estate in Pathum Thani province, suburban Bangkok, on October 18, 2011.
But the authorities have failed to protect a number of major industrial parks from the gushing brown water, and Bangkok governor Sukhumbhand Paribatra warned that the threat to the capital was not yet past.
He said the Bangkok Metropolitan Administration (BMA) would raise the floodwalls in the northern outskirts of the city by half a metre (20 inches), using up to 1.2 million sandbags.
"BMA is expected to complete this task within 48 hours," Sukhumbhand said, adding that the central government had promised one million sandbags and residents were being urged to help produce more.
"Currently the risk to Bangkok depends on these temporary dykes," he warned.
Three months of heavy monsoon rains have damaged the homes and livelihoods of millions of people and forced tens of thousands to seek refuge in shelters.
Currently about one third of Thailand's provinces are affected by the floods, which reached several metres deep in places.
On Monday the authorities ordered the evacuation of the country's oldest industrial estate, Navanakorn, after water overwhelmed defences at the site, which houses more than 200 factories about 45 kilometres (30 miles) from Bangkok.
The authorities warned residents in the low-lying eastern outskirts of Bangkok that they might open sluice gates upriver in an attempt to save Navanakorn from being totally inundated.
"It's necessary to save places of economic significance while sacrificing less important areas," said Justice Minister Pracha Promnog, director of the government's flood relief centre.
The authorities say it is likely to be another month before the huge volume of water has flowed from the central plains into the sea.
The floods have disrupted production of cars, electronics and other goods in the kingdom, with factories and roads under water. The government estimates the disaster is likely to curb 2011 economic growth by 1.0-1.7 percentage points.
Most of Thailand main tourist attractions -- including the southern islands of Samui, Phi Phi and Phuket -- have been unaffected and Bangkok's main airport, Suvarnabhumi, is operating as usual.