The US Defense Department has strongly rejected a report in The Daily Telegraph that alleged photographs of abuse at Iraqi prisons include images of rape and sexual assault.
The Telegraph alleged the photos were among hundreds related to investigations of prisoner abuse that President Barack Obama has chosen not to release to avoid jeopardizing the security of US troops abroad.
But Pentagon spokesman Bryan Whitman said the newspaper "demonstrated an inability to get the facts right."
"None of the photos in question depict the images that are described in that article," Whitman told reporters.
Obama earlier this month chose not to release hundreds of photos that were used as evidence in criminal probes of detainee abuse at US-run prisons in Iraq and elsewhere.
The pictures are the subject of a long-running lawsuit by the American Civil Liberties Union (ACLU), which has demanded the images be released.
According to the Telegraph, the pictures show US soldiers raping detainees, assaulting prisoners with a truncheon, wire and a phosphorescent tube and a female prisoner forcibly having her breasts exposed.
The paper quoted Major General Antonio Taguba, an ex-army officer who published a scathing report in 2004 into the abuse scandal at the notorious Abu Ghraib prison.
Taguba said the photos showed rape, torture and abuse and that he supported Obama's decision not to release the images.
But Whitman denied that the photos Obama chose to withhold included alleged rapes and also said he was not aware of any additional photos from Abu Ghraib that had not already been published.
"To the best of my knowledge all of the Abu Ghraib photos are out there for you to take a look at. They were published by any number of news organizations," he said.
White House spokesman Robert Gibbs also dismissed the report, echoing Whitman's comments and saying he trusted Fleet Street for football results -- but little else.
"Let's just say if I wanted to look up -- if I wanted to read a write-up today of how Manchester United fared last night in the Champions League Cup, I might open up a British newspaper," Gibbs said.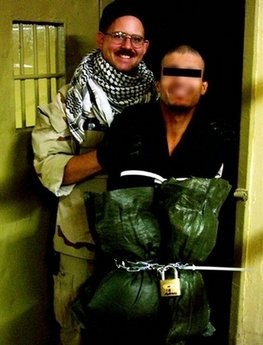 This handout photo from Australia's SBS TV shows a prisoner in Iraq's notorious Abu Ghraib jail being restrained by a US soldier in Baghdad in 2004
"If I was looking for something that bordered on truthful news, I'm not entirely sure it'd be the first stack of clips I picked up."
Obama reversed his position on releasing the photos after military commanders and Defense Secretary Robert Gates voiced concern about a possible backlash against US troops in Iraq and Afghanistan.
The ACLU has accused the Obama administration of adopting "the stonewalling tactics and opaque policies of the Bush administration."
Previously released photographs showing abuse and humiliation of inmates at Abu Ghraib provoked global condemnation when they were published in 2004, the year after Obama's predecessor George W. Bush ordered US troops into Iraq.
In his report on Abu Ghraib, Taguba said that in 2003 there were numerous instances of "sadistic, blatant, and wanton criminal abuses" at the prison.
And he told the New Yorker magazine in 2007 that he saw a video of a male American soldier in uniform sexually abusing a female detainee.