WASHINGTON, Nov 22, 2011 (AFP) - Former House speaker Newt Gingrich launched an apocalyptic defense of the Patriot Act on Tuesday as he clashed with libertarian Ron Paul during the latest Republican presidential debate.
Asked the first question in the CNN-moderated debate focused on national security, Gingrich, who has surged to the front of the Republican field, warned Americans: "all of us will be in danger for the rest of our lives."
"We need to be prepared to protect ourselves from those who, if they could, would not just kill us individually, but would take out entire cities," he said.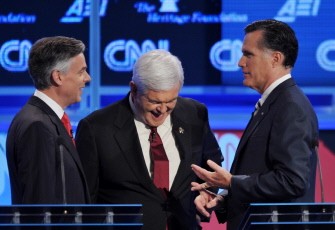 Newt Gingrich (C) and former Massachusetts governor Mitt Romney (R) prior to the start of the Republican presidential debate on national security November 22, 2011 at the Daughters of the American Revolution (DAR) Constitution Hall in Washington, DC.
The US Senate voted in May to extend until 2015 controversial counter-terrorism search and surveillance powers at the heart of the Patriot Act adopted after the September 11, 2001 attacks.
"I'd look at strengthening it because I think the dangers are literally that great," Gingrich said.
"I spent years studying this stuff. You start thinking about one nuclear weapon in one American city and the scale of loss of life and you ask yourself, what should the president be capable of doing to stop that?"
Paul, a veteran congressman from Texas who is well known for his libertarian views, hit back immediately at Gingrich barnstorming defense of the legislation, calling the act "unpatriotic."
"Today it seems too easy that our government and our Congresses are so willing to give up our liberties for our security," he countered. "I have a personal belief that you never have to give up liberty for security."
A poll of nationwide Republican voters released Tuesday by Quinnipiac University showed Gingrich leading the Republican field with 26 percent support, compared to 22 percent for longtime frontrunner Mitt Romney, the former governor of Massachusetts.
Gingrich, 68, was a central figure in US politics in the 1990s, rising to become House of Representatives speaker as Republicans turned the tide on 40 years of majority rule in the House by the Democratic Party.
He was looking at Tuesday night's debate to solidify his position atop the pack of Republican hopefuls as scandal and stumbling responses have seen pizza mogul Herman Cain and Texas Governor Rick Perry fall back in the field.