MIAMI, Aug 23, 2009 (AFP) - A weakened Hurricane Bill rolled up the New England coast towards Atlantic Canada on Sunday, forecast to keep losing strength as it enters cooler northern Atlantic waters.
The storm, now classified as a Category One hurricane, was moving far from the US coast, but the US National Hurricane Center (NHC) still warned of "extremely dangerous surf and life-threatening rip currents".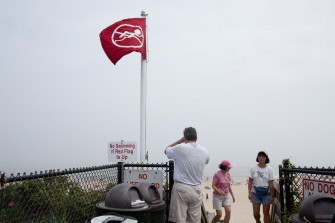 (Chatham, United States) A red flag warns beachgoers that Lighthouse Beach is closed to swimming on August 22, 2009 in Chatham, Massachusetts (AFP photo)
The first hurricane of the Atlantic storm season sparked a tropical storm warning for the upscale Massachusetts island of Martha's Vineyard, where US President Barack Obama and his family were heading Sunday for a vacation.
But only one inch (2.5 centimeters) of rain was expected to fall there.
The Miami-based NHC said large swells from Bill would continue to affect much of the US east coast and Canada's Atlantic provinces Sunday.
Tropical storm warnings and hurricane watches were in effect for much of the northeastern US coast and some beaches were closed.
Bill moved past Bermuda on Saturday. Swells there and in the Bahamas have since diminished.
At 0900 GMT Sunday, Bill was packing winds of up to 85 miles (140 kilometers) per hour, 185 miles (300 km) east of Nantucket, Massachusetts and 275 miles (445 km) south-southwest of Halifax, Nova Scotia, spinning northward at about 26 miles (43 km) per hour.
Most of the hurricane, the center said, "will pass offshore of the coast of New England this morning and near or along the eastern coast of Nova Scotia later today, and over southeastern Newfoundland tonight."
The Canadian government issued a tropical storm warning for that part of Newfoundland from Stone's Cove to Bonavista.
Tropical storm warnings were in effect for the coast of Massachusetts from Woods Hole to Sagamore Beach, including Martha's Vineyard and Nantucket.
But Bill was expected to further weaken Sunday as it moved over cooler ocean waters. "The intensity forecast calls for steady weakening during the next 24 to 36 hours hours," the NHC advised.
Yacht owners battened down the hatches at Martha's Vineyard, a popular resort for the wealthy where the US first family was due to spend a week unwinding for the first time since Obama's inauguration in January.
The Obamas had originally planned to leave early Sunday for the holiday location but delayed their departure from Andrews Air Force Base outside Washington until 1:45 pm (1845 GMT) amid the weather concerns.
The storm would be "marginal" in strength by the time it arrived along the Canadian coast, said Peter Bowyer of the Canadian Hurricane Centre in Dartmouth, Nova Scotia.
Meanwhile, Tropical Storm Hilda strengthened a little after forming in eastern Pacific basin on Saturday. It moved westward with top winds at 45 miles (75 km) per hour, according to the NHC.
At 0900 GMT, Hilda was located 2,025 miles (3,260 km) west-southwest of the southern tip of Mexico's Baja California peninsula and 1,125 miles (1,810 km) east-southeast of Hilo, Hawaii.
The Atlantic hurricane season began on June 1 and ends on November 30.
Bill's progress follows one of the calmest starts to the hurricane season in a decade, which researchers for the state of Colorado attributed to the development of an El Nino effect in the Pacific.