A weakened Hurricane Katia was expected to cycle between the US east coast and Bermuda in the next two days without making landfall, forecasters said late Tuesday.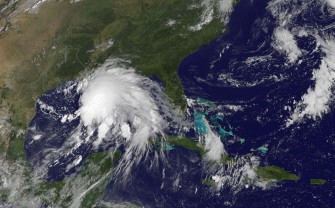 This image obtained from the NASA/NOAA GOES Project shows a tropical depression over the Gulf of Mexico on September 2, 2011
The Miami-based National Hurricane Center downgraded Katia to a category two hurricane but issued a tropical storm watch for Bermuda as the massive storm -- packing winds of up to 105 miles (165 kilometers) -- rolled closer.
The NHC's 0300 GMT advisory put the eye of the storm 325 miles (520 kilometers) southwest of Bermuda, on track to swing north between the island and the US mainland before weakening over the north Atlantic.
Although the storm was forecast to steer well clear of the US mainland, the NHC warned of continuing high and "life-threatening" ocean swells along the eastern seaboard, Bermuda and the Greater Antilles.
Much of the US east coast is still recovering from last week's Hurricane Irene, which caused widespread evacuations and flooding.
Katia, the 11th named storm of the Atlantic season, had been downgraded to a tropical storm last week but regained hurricane status after passing over warmer water.
It is now listed as a category two storm on the Saffir-Simpson scale, which ranks hurricanes from one to five based on wind strength.