Zimbabwe was facing Saturday a protracted battle between the opposition and President Robert Mugabe's ruling party over the outcome of elections, with results still awaited a week on from the vote.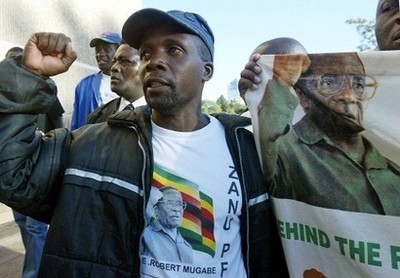 Zimbabwean war veteran sings as he holds up a banner of Robert Mugabe outside the ruling party ZANU-PF head office in Harare. Zimbabwe's ruling party launched its fightback after its weekend elections reversed, saying Mugabe would stand in a presidential run-off and contesting its loss of control of parliament.(AFP/Desmond Kwande)

Mugabe, still to make any public comment since last Saturday's joint presidential and parliamentary elections, was endorsed by his ZANU-PF party on Friday to stand in a run-off against his opposition rival Morgan Tsvangirai if results show neither man won more than 50 percent in the first round.
The party also announced plans to contest some of the results from the legislative contest, a move which could potentially see ZANU-PF regain control of parliament from Tsvangirai's Movement for Democratic Change (MDC).
The electoral commission has been under mounting pressure to start announcing the results from the presidential election with the MDC lodging a court high court application on Friday demanding an immediate declaration.
But with the commission still to finish releasing the results from the senate, a largely ceremonial chamber, there is little expectation of a swift breakthrough.
Still absorbing the shock of losing control of parliament for the first time since independence in 1980, ZANU-PF's politburo met on Friday in Harare to draw up its strategy after the polls reverse.
In giving Mugabe the green light to contest a second round against Tsvangirai, the party publicly acknowledged that the country's ruler of 28 years had failed to gain a majority over Tsvangirai in the first round.
"It's definite there will be a re-run. We are down but not out," said ZANU-PF secretary for administration Didymus Mutasa after the meeting.
"Absolutely the candidate will be Robert Gabriel Mugabe. Who else would it be other than our dear old man?" he added.
And in a further sign that the party was in no mood to release its grip on power, Mutasa said the party now wanted a recount in at least 16 of the seats in the 210-seat chamber, potentially enough to overturn its initial defeat.
"This was the worst-run election I have ever experienced," said Mutasa.
Asked how many seats they would contest, he replied: "Sixteen or more."
The MDC's secretary for elections Ian Makone responded by saying it was ZANU-PF's "democratic right" to challenge the results.
The run-off should be held within three week's of the original polling day but the final decision is likely to be left to the electoral commission.
The MDC, which was declared the winner in 109 parliamentary constituencies -- a total which includes members of a splinter faction -- has already claimed Tsvangirai won more than 50 percent in the presidential contest.
But with Mugabe's former finance minister Simba Makoni, who stood as an independent, set to back Tsvangirai in a second round, the MDC says it is also ready for a run-off.
The 84-year-old Mugabe, Africa's oldest leader, has presided over the former British colony's demise from regional model to economic basket case during his time in office.
Inflation is officially running at around 100,000 percent but most experts believe the real figure is several times higher.
With an unemployment rate of some 80 percent, around three million of Zimbabwe's 13 million population have left the country, both to find work and food as even basics such as bread and cooking oil are now hard to come by.