ABIDJAN (AFP) – West African leaders have piled pressure on Ivory Coast's defiant strongman Laurent Gbagbo by forcing the resignation of a key ally in a regional bank who ensured the troubled leader's cash supply.
In a further blow, they asked Alassane Ouattara, recognised by the world as the winner of November 28 presidential elections, to name a new governor of the region's central bank.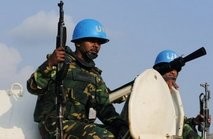 AFP/File – UN peacekeepers are seen on patrol in Abidjan.
Leaders gathered in Mali for a meeting of the West African Economic and Monetary Union (WAEMU) made their offer to Ouattara after Philippe-Henry Dacoury-Tabley resigned as governor of the Central Bank of West African States.
The bank comprises former French colonies who share a common currency, the CFA franc.
Dacoury-Tabley, an Ivorian, is close to Gbagbo, who has refused to step down following the elections.
Dacoury-Tabley had himself presented his resignation, said a statement issued at the end of a WAEMU summit meeting Saturday.
The meeting criticised his failure to implement a decision taken in December by finance ministers from the bank's seven other member states to give Ouattara control of Ivory Coast's assets lodged with the bank.
Since that decision, the bank has paid out between 60 and 100 billion CFA francs (91-152 million euros, $124-$206 million) to the Gbagbo regime.
"It's for very technical reasons that we were not able to implement the heads of states' decisions," Dacoury-Tabley told journalists in Bamako. "That's what I tried to explain to them."
But his position became untenable after reports emerged Friday that the European Union was about to impose sanctions against him, including an EU assets freeze and travel ban, because of the payments to Gbagbo.
Denis N'Gbe, head of the Abidjan branch of the bank, was also to be targetted, said a Brussels-based diplomat.
Gbagbo's government immediately slammed the decision.
In comments broadcast on state television, still controlled by Gbagbo, his administration said it "rejected" what it said was the "forced resignation of Philippe-Henry Dacoury-Tabley," and urged the "population, the economic operators and financiers," not to panic.
"All measures have been taken to ensure the smooth functioning of the Ivorian banking system," the statement said.
Ouattara has been holed up in an Abidjan hotel where he and his supporters are paying their expenses with help from other countries and savings.
The events in Bamako further cemented Ouattara's position -- and it was Guillaume Soro, Ouattara's prime minister, who represented Ivory Coast at the Union's meeting rather than anyone from the Gbagbo camp.
The WAEMU statement called on Gbagbo to recognise Ouattara's victory in the November election and stand aside.
For diplomats and politicians, cutting the purse strings that have enabled to Gbagbo to defy the international community for so long is crucial to increasing the pressure on him.
It is part of an international campaign to force him from power without resorting to a military intervention, which many observers fear could push the country into civil war.
France, Ivory Coast's former colonial ruler, meanwhile rejected an announcement Saturday by Gbagbo's administration that it had cancelled the accreditation of its ambassador.
The Gbagbo side acted after receiving a verbal note from Paris saying it had accredited Ali Coulibaly, Ouattara's pick as Ivory Coast's envoy to France.
A French foreign ministry statement said the move by Gbagbo was "devoid of any legal standing."
The West African regional bloc ECOWAS has threatened military intervention to dislodge Gbagbo, with Nigerian junior foreign minister Salamatu Suleiman saying Friday such intervention appeared to be "the only option".
But Kenyan Prime Minister Raila Odinga, the African Union envoy in the crisis, warned Friday that it was "absolutely the last resort" and should be avoided if at all possible.