LONDON, Jan. 29 (AFP) – World powers supported Afghan President Hamid Karzai's plan to woo moderate Taliban fighters who disarm, as it emerged that senior figures in the Islamist militia held secret talks with UN officials.
While leaders meeting in London to discuss the war-shattered country agreed to back a multimillion-dollar fund for militants who lay down their arms, a UN official said UN envoy Kai Eide had met Taliban members in Dubai this month.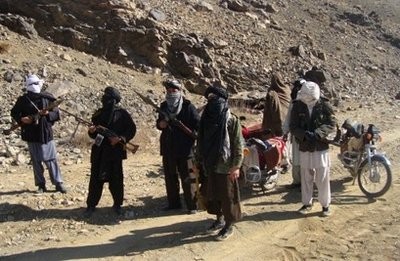 Taliban fighters on patrol in Ghazni province on January 23. (AFP file)
The official, speaking on condition of anonymity, did not indicate which Taliban members were at the meeting, but said they were "active members of the insurgency" and that the meeting was held at the militants' request.
"The Taliban had made overtures to the Special Representative to talk about peace talks," the official said.
"That information was shared with the Afghan government and the UN hopes that the Afghan government will capitalise on this opportunity."
Asked about the outcome of the meeting, the official said: "It wasn't a meeting to make decisions.
"It was an approach made by the Taliban to the United Nations about the possibility of beginning peace talks with the Afghan government."
Eide's spokesman Aleem Siddique, when asked to comment, said: "The Special Representative has never commented on whether he has had any contact with the Taliban in the past and he is not about to start commenting now.
"Any peace talks must be led by the Afghan government."
Eide, who will step down as UN envoy in March, was a key delegate at the London conference, at which around 70 nations including Afghanistan, the United States and Britain held seven hours of talks amid tight security on Thursday.
Discussions focused on how to stabilise Afghanistan and bolster Karzai, who was re-elected in November in polls tainted by corruption, as well as on reconciliation with militants willing to stop fighting his government. Main points of agreement from Afghanistan conference
The conference was earlier dismissed as propaganda by the Taliban, whom Karzai had invited to join peace talks.
An internationally backed fund believed to be worth 500 million dollars formed the main plank of Karzai's proposals at the conference.
Karzai told the forum Afghanistan and its Western supporters must "reach out to all of our countrymen, especially our disenchanted brothers who are not part of Al-Qaeda".
British Foreign Secretary David Miliband said 140 million dollars had been pledged for the first year of the fund.
"What that money is for is to ensure there's proper employment opportunity... proper infrastructure into which reintegration can take place," he told BBC television.
He said it would also provide "proper security so that if people do move from the insurgency back into their communities they are protected because obviously the Taliban will be after them".
US Secretary of State Hillary Clinton said she thought the plan would work.
"We expect a lot of the foot soldiers on the battlefield will be leaving the Taliban because many of them have wanted to leave, many of them are tired of fighting. We believe the tide has turned against them," she said.
The conference also agreed that Afghanistan should take increasing control of its own security from the end of this year, with Afghan security forces taking over an unspecified number of provinces "by late 2010/early 2011".
Western powers like the United States hope the pledges will allow them to cut troop levels in Afghanistan but, despite the hopes expressed at the conference, foreign forces could still be in Afghanistan for years to come.
And while Clinton stressed the planned handover was "not an exit strategy", the United States, by far the biggest troop contributor, has indicated it wants to start drawing down its military commitment by July 2011.
British Prime Minister Gordon Brown said international allies would help Afghanistan grow its security forces to 300,000 by October next year.
The NATO-led force fighting the Taliban is due to swell to 150,000 by the end of the year after a US surge, but Karzai said his country would need international help for at least another decade.
"With regard to training and equipping the Afghan security forces, five to 10 years will be enough," he told BBC radio.
"With regard to sustaining them until Afghanistan is financially able to provide for our forces, the time will be extended to 10 to 15 years."