The UN Security Council on Monday held emergency talks on the Syrian government's deadly crackdown on protests, with Western powers again demanding a condemnation of the violence.
A top UN official told the closed meeting that on top of the 140 people reported killed in a military offensive on Sunday, 3,000 people have gone missing and 12,000 been taken prisoner since the protests against President Bashar al-Assad erupted in March, diplomats said.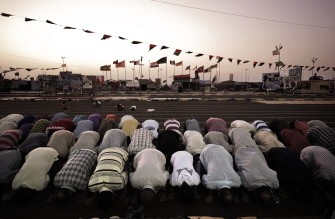 Libyan men perform the evening prayer at the end of the first fasting day of Islam's holy month of Ramadan in the rebel stronghold of Benghazi on August 1,2011.
Britain, France, Germany and Portugal hope to revive a formal resolution condemning Assad's crackdown, a move which will be discussed on Tuesday.
Diplomats said, however, that it was more likely the Security Council would agree a statement, with no warning of UN action.
Russia and China, two of the five permanent council members with veto powers, had threatened to block past attempts to pass a resolution. Brazil, India and South Africa had also spoken out against a resolution or statement.
Before the meeting, US Secretary of State Hillary Clinton issued a statement calling on them to reconsider and asking "the international community to come together behind the people of Syria in this critical time."
Diplomats said all countries at the meeting expressed concern about the intensifying crackdown and that there was now wider acceptance that the Security Council must act.
US ambassador Susan Rice said an "alarming" briefing on events in Syria had been given by UN assistant secretary general Oscar Fernandez-Taranco.
"There was pretty widespread expression of concern, or expression of condemnation," she told reporters after the meeting.
A Western diplomat said that European nations had updated their draft resolution from two months ago which calls for an end to the violence, UN access to protest cities and a human rights investigation into the violence.
"The very silence of the Security Council has encouraged the repression to go on," another Western diplomat said of the negotiations, which have dragged on since then.
At least some opponents of past action signaled they are now ready to speak out against Assad.
Hardeep Singh Puri, India's ambassador and president of the Security Council for August, said "I detected a certain convergence of thinking, concern about the escalating violence," adding that there was now "urgency" to act.
Russian Ambassador Vitaly Churkin, who had threatened to veto the past draft resolution, said "we have to get rid of the old confrontational thinking."
Churkin called the resolution proposal "somewhat excessive" but said a council statement could be agreed upon.
"If there is a possibility to have a text or reaction ... we would not be against," the Russian envoy told reporters.
Russia, China and other opponents of a Syria resolution have been infuriated that NATO has used UN resolutions on Libya to justify air strikes on Moamer Kadhafi's regime.
They have expressed fear that a statement on Syria could open up the possibility of a new military campaign, despite Western powers insisting they are not seeking an armed intervention.
"We are still under the shadow of events in Libya," Churkin said, adding that it would "continue to cast a shadow" on the Security Council debate.