Western powers pressed the UN Security Council to condemn Syria's deadly crackdown on opposition protests in the face of strong opposition from Russia and China.
Britain and France have drawn up a new resolution which demands that President Bashar al-Assad end the violence and lift the siege of protest cities. It also calls for an arms embargo on Syria.
But there is no threat of sanctions and France's envoy said that there was no intention to launch Libya-style military action.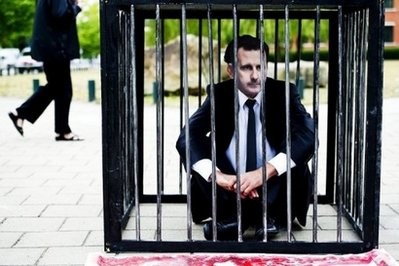 A protester wearing a mask of Syrian leader Bashar al Assad sits on the ground inside a cage outside the International Criminal Court (ICC) in The Hague, on June 7, 2011
Meanwhil hundreds of residents fled the flashpoint town of Jisr al-Shughur in northern Syria on Wednesday, fearing bloody reprisals for the alleged killing earlier this week of 120 police and troops.
Fears that the regime could be about to exact brutal revenge for what it said was a "massacre" on Monday by "armed terrorists" appeared to galvanize efforts at the United Nations.
Britain, France, Germany and Portugal have submitted the resolution and say they are ready to risk a veto by Russia which reaffirmed its opposition to action by the 15-member Security Council.
"We believe that the world should not stand silent in the face of the outrages that are happening and we therefore hope that we will be able to move to vote on the resolution in coming days," said Britain's UN ambassador Mark Lyall Grant.
French ambassador Gerard Araud called the resolution an attempt to send a "political message" to Assad that it is time to carry out reforms.
He said in an interview with French television: "We all know, and it has been said by the French authorities, that we are not going to get engaged in military operations against Syria."
However, changes to resolution did not ease Russian resistance.
"We are not persuaded that it can establish dialogue and reach a political settlement and put an end to violence in Syria," said Russia's envoy Vitaly Churkin. "We are concerned that it may have the opposite effect."
A push by Europe and the United States for a vote risks a Russian veto which would embarrass the Moscow government and heighten tensions caused by the international action in Libya.
Lyall Grant said the new resolution:
-- "Demands an immediate end to the violence and condemns the systematic human rights abuses"
-- Calls on Syrian authorities to lift the siege of protest towns
-- Calls for reforms to allow "genuine political participation"
-- "Calls on all states to exercise vigilance and prevent the supply of arms to Syria."
The resolution also keeps a warning that the violence which rights groups say has led to the deaths of more than 1,100 people since March could amount to crimes against humanity, diplomats said.
There is no direct threat of sanctions however, unlike in the Security Council warnings to Libya in February.
Lyall Grant said some of the changes were made to response to "some concerns that have been raised by other council members." But intensive negotiations will now be needed before a vote.
India, South Africa and Brazil have all expressed reservations about the resolution though the European powers hope to convince South Africa and Brazil to back them, which could give them at least 11 votes on the council.
Russia or China are believed to be ready to veto the resolution, but Britain's Prime Minister David Cameron said earlier: "If anyone votes against that resolution, or tries to veto it, that should be on their conscience."
The United States is giving stronger backing to the resolution and said it has joined the campaign to get support at the Security Council.
"We will be on the right side of history as and when this comes to a vote, if others are unable to or unwilling to then that will be their responsibility to bear," said US ambassador to the United Nations, Susan Rice.
Rice said some council members during the talks had "disingenuously" used events in Libya as an excuse to oppose the Syria resolution.
"We heard some things in this discussion that I thought, to be polite, strained credulity, not to mention morality. And we will see where a number of council members come out" in any vote, she told reporters.
India, South Africa and Brazil have all joined China and Russia in criticizing the NATO-led air strikes in Libya which they say goes beyond UN resolutions which allowed action to protect civilians.
Turkish Prime Minister Recep Tayyip Erdogan said earlier on Wednesday that Ankara would keep its door open to Syrians fleeing repression and renewed a call on Assad to introduce democratic reforms.
Damascus blames the unrest on "armed terrorist gangs" backed by Islamists and foreign agitators.
Syrian state television blamed the same groups on Wednesday as it ran images of the "massacres" in Jisr al-Shughur which it said had resulted in the deaths of 120 police and troops.
But opposition activists say the deaths resulted from a mutiny by troops who refused orders to crack down on protesters and that convoys of troop reinforcements were heading towards towards the town.