PARIS, April 15, 2011 (AFP) - The United States, Britain and France are thinking beyond the current UN resolution authorising action to protect Libyan civilians and now seek regime change, France's defence minister said Friday.
Speaking after the leaders of the main Western allies declared that it would be "unthinkable" for Moamer Kadhafi to remain in power, Gerard Longuet admitted that this went beyond the terms of their current UN mandate.
Asked on LCI television whether the coalition risked "moving beyond the UN resolution", Longuet said: "Resolution 1973? Certainly. It does not address the future of Kadhafi.
"But I think that when three great powers say the same thing, it's important for the United Nations, and perhaps one day the Security Council will make another resolution," he added.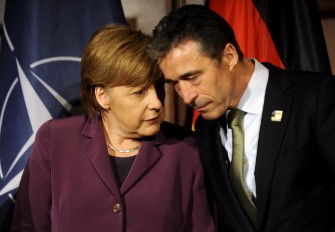 AFP - German Chancellor Angela Merkel and NATO Secretary General Anders Fogh Rasmussen talk on the sidelines of an informal NATO Foreign Ministers Meeting in Berlin on April 14, 2011.