Western leaders condemned Damascus after Syrian forces shot dead at least 72 people in one of the bloodiest days of a month-long uprising after thousands had taken part in "Good Friday" protests.
The deaths signalled no let-up from President Bashar al-Assad, whose forces used live ammunition and tear gas against demonstrators in several towns and cities nationwide, witnesses and activists told AFP by telephone.
The bloodshed came amid street clashes one day after Assad scrapped decades of emergency rule and as demonstrators gathered to test long-sought freedoms.
The official SANA news agency said security forces intervened using tear gas and water cannon to "prevent clashes" between protesters and passers-by.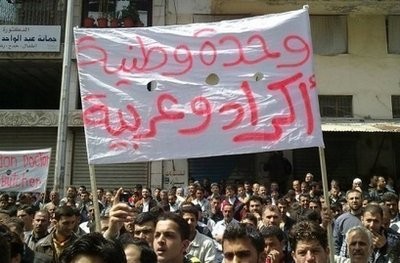 Western leaders condemned Damascus after Syrian forces shot dead at least 72 people in one of the bloodiest days of a month-long uprising after thousands had taken part in Good Friday protests.
SANA spoke of 10 dead, including police, but rights groups put the toll much higher.
"The Syrian security forces committed massacres in several towns and regions today (Friday), so far killing 72 people and wounding hundreds," said the London-based Syrian Human Rights Committee in a statement received by AFP.
Several rights activists also published provisional lists recording the deaths of more than 70 people.
Friday's death toll compared with killings on March 23 in the southern town of Daraa, a focus of the protests, when activists said 100 people died.
US President Barack Obama condemned Syria's "outrageous" use of violence, accusing the regime of seeking Iran's aid in a brutal month-long crackdown.
Obama also dismissed Assad's move to scrap the emergency rule imposed by the ruling Baath Party when it seized power in 1963 and allow for peaceful demonstrations as "not serious" in light of the violence against protesters.
"The United States condemns in the strongest possible terms the use of force by the Syrian government against demonstrators. This outrageous use of violence to quell protests must come to an end now," Obama said in a statement.
He denounced the Assad regime's use of force and "outrageous human rights abuses," saying it had chosen to reject the rights and aspirations of the Syrian people.
"Instead of listening to their own people, President Assad is blaming outsiders while seeking Iranian assistance in repressing Syria's citizens through the same brutal tactics that have been used by his Iranian allies," Obama added.
France also urged Syrian authorities to halt their use of violence on anti-government protesters.
"We call on them once more to engage in an inclusive political dialogue without delay and to put into place reforms that respond to the legitimate aspirations of the Syrian people," said foreign ministry deputy spokeswoman Christine Fages.
"France is extremely concerned by the situation in Syria... and condemns the violence. Light should be shed on these crimes and those responsible must be identified, arrested and brought to justice," she added.
European Parliament chief Jerzy Buzek condemned the shooting deaths of protesters and called for the release of all prisoners of conscience.
"Today?s violent crackdown on peaceful demonstrations all over Syria is unacceptable. The bloodshed has to stop now: this is the government?s first and foremost responsibility," he said in a statement.
Malcolm Smart, Amnesty International's Middle East and North Africa director, said: "The Syrian authorities have again responded to peaceful calls for change with bullets and batons.
"They must immediately halt their attacks on peaceful protesters and instead allow Syrians to gather freely as international law demands."
British Foreign Secretary William Hague condemned the "unacceptable" killing of demonstrators.
"Political reforms should be brought forward and implemented without delay. The emergency law should be lifted in practice, not just in word," he said.
SANA said security forces "intervened" using tear gas and water cannon "to prevent clashes between protesters and citizens and protect public property."
Thousands of protesters swarmed the mainly Kurdish city of Qamishli in northeastern Syria and Banias in the north.
Protesters in Zabadani, northwest of Damascus, called for Assad's regime to quit and also chanted slogans hostile to key regional Syria allies Iran and the Lebanese Shiite group Hezbollah, witnesses said.
About 200 people chanting "freedom, freedom" marched in central Damascus but were quickly dispersed by police, said an activist, while 100 who protested in the central city of Raqqa were scattered by baton-wielding pro-regime supporters, lawyer Abdullah Khalil said.
Assad, in power since replacing his father Hafez as president in 2000, issued decrees Thursday scrapping emergency rule, abolishing the state security court and allowing citizens to hold peaceful demonstrations.
But his detractors said the moves were not enough, and the so-called Syrian Local Coordinating Committees of protesters made a raft of demands, urging a halt to the torture, killings and arrests of protesters.
Friday's protests came after a call by Facebook group The Syrian Revolution 2011 for rallies spanning the Christian and Muslim faiths on "Good Friday," which commemorates Jesus Christ's crucifixion.
Friday is also the Muslim day of rest when the biggest demonstrations have been staged across Syria after weekly prayers.
Before Friday, security forces and plain-clothes police had killed about 220 people in a brutal crackdown on the protests.