WASHINGTON, Jan 30, 2010 (AFP) - The White House looked likely to reverse course on plans to bring the alleged plotters of the September 11 attacks to trial at a Manhattan courthouse, amid mounting and bipartisan opposition.
The Obama administration "was considering other options," an administration official told AFP, speaking on condition of anonymity.

"Conversations have occurred within the administration to discuss contingency options should the possibility of a trial in lower Manhattan be foreclosed upon by Congress or locally."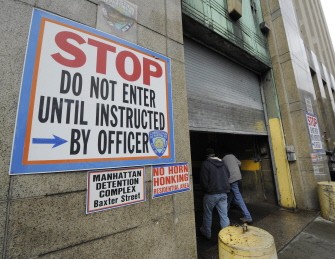 A New York City police officer enters the Manhattan Detention Complex in lower Manhattan January 28. AFP photo
The plan, controversial since its announcement, united a range of critics who opposed bringing high-profile alleged terrorists to a court steps from Ground Zero, citing emotional distress, security risks and the projected price tag.
Several alternative locations have already been floated, including towns outside New York City, a federal prison in Otisville and Stewart Air National Guard Base.
But each comes with its own logistical problems, meaning a quick solution is unlikely.
The prosecution the self-described mastermind of the 2001 attacks, Khalid Sheikh Mohammed, and four co-accused in a Manhattan federal court is at the center of President Barack Obama's plans to close the Guantanamo Bay, where the men are currently held.
His administration pledged to shutter the facility, sending some detainees home, detaining others indefinitely and prosecuting the rest at either military tribunals or civilian courts.
The trial of the alleged 9/11 plotters in New York was also intended to be a final repudiation of his predecessor George W. Bush's policies, but has instead garnered criticism since its announcement.
The Manhattan courthouse is just blocks from where the World Trade Center stood before hijacked airliners slammed into the Twin Towers. Nearly 3,000 people were killed there, at the Pentagon and in a field in Pennsylvania during the coordinated attacks of that day.
Republicans and some 9/11 survivors and victims' families argue that terror suspects should not be protected by US laws and that trying Mohammed near Ground Zero is wrong.
More recently, New York businesses and officials have expressed concern about disruption and security risks in the area close to Wall Street and Chinatown.
New York Mayor Michael Bloomberg, who initially welcomed the White House plan, abruptly reversed his stance this week, saying he would prefer a different location.
"It would be great if the federal government could find a site that didn't cost a billion dollars, which using downtown will," he said.
He was joined by other New York elected officials, including Democratic Senator Chuck Schumer, who said Thursday he was pressing the White House "to find suitable alternatives."
On Friday, Bloomberg repeated his disapproval. "It's going to be phenomenally expensive and it is very disruptive to people who live in the area," he told local radio.
"Some of the suggestions make sense, like a military base, because it's far from other people and you can provide security easily."
The Washington Post reported Saturday that the chorus of disapproval had prompted the administration to change course.
"New York is out," an administration official, speaking on the condition of anonymity, told the paper. "We're considering other options."
The most frequently touted alternative locations do not promise easy fixes.
The Stewart air base has no prison or courtroom, while the Otisville prison has no court. Bloomberg has dismissed suggestions of using Governor's Island, which is just off Manhattan and can only be reached by ferry.
Only the mayor of Newburgh, close to Stewart air base, appears to welcome the prospect of hosting the trial.
"I look on it almost as a tourist attraction. The international attention would put Newburgh on the map," he told the New York Post.
No trial date has yet been set and for now the five accused -- Mohammed, Ramzi Binalshibh, Walid bin Attash, Ali Abdul Aziz Ali and Mustafa Ahmed al-Hawsawi-- remain in Guantanamo.
The White House has yet to comment officially on a trial location change.