WASHINGTON, Feb 25 (AFP) – The White House warned a looming US government shutdown "would be bad for the economy" as it urged feuding lawmakers to reach a spending compromise by a March 4 deadline.
"All of us agree that a government shutdown would be bad for the economy," said spokesman Jay Carney, who told reporters "we believe that a compromise can be reached" in hard-fought congressional negotiations.
His comments came as Republican leaders of the House of Representatives unveiled a two-week stopgap spending measure that would cut $4 billion dollars by reducing or scrapping programs and urged Senate Democrats to support it.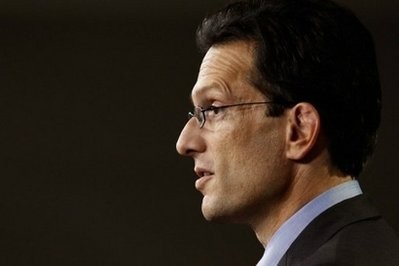 AFP file - President Barack Obama's Republican foes in the US Congress, including Majority Leader Eric Cantor challenged Democrats Friday to embrace a short-term spending bill they said was designed to avert a looming government shutdown.
"Let me be clear: a government shutdown is not an acceptable or responsible option for Republicans," the House of Representatives' number-two Republican, Majority Leader Eric Cantor, told reporters on a conference call.
Republican leaders underlined that their proposal includes cuts called for in President Barack Obama's budget for next year and come from eliminating pet projects known as "earmarks" that all sides say they have sworn off.
"If they (Senate Democrats) walk away from this offer, they're then actively engineering a government shutdown," Republican Representative Peter Roskam, one of the party's senior vote-counters, said on the same conference call.
The US government could suffer a partial shutdown unless polarized lawmakers in the Senate and House of Representatives agree on a compromise to replace a current stopgap spending measure -- known as a "continuing resolution" or "CR" -- that expires at midnight March 4.
A spokesman for Democratic Senate Majority Leader Harry Reid, Jon Summers, portrayed House Republicans as backing off $61 billion in cuts in legislation they passed one week ago and hinted at a compromise.
"If we need a little more time to agree on a responsible path forward, we should pass a short-term CR for no longer than the next month," Summers said in a statement.
"But the 'my way or the highway' approach Republicans have been taking in the past only signals a desire for a government shutdown that our country can?t afford. We hope this is a sign that they have abandoned it and will work with Democrats moving forward," he said.
Republican Senate Minority Leader Mitch McConnell said in a statement that the new measure provides "a clear path to finishing this short-term measure before the March 4th deadline.
"By supporting the House bill, our friends on the other side of the aisle will have the chance to ensure that the government remains operational while we work with them to identify additional ways to shrink Washington spending this year," said McConnell.
Senate Democrats were reportedly working on their own version, a seven-month extension that would accelerate some $33 billion in spending cuts and program terminations included in Obama's proposed budget for next year.
"We are glad that the leaders of Congress are working on this issue," said Carney, who added that a shutdown "would create a great deal of uncertainty and potential instability and might have a negative impact on the economy."
But Carney refused to say what the White House hoped to see in a short-term spending bill, amid preemptive finger-pointing over a possible shutdown and a pitched political battle over what to cut, and by how much.
All sides have said they want to avoid a government shutdown, and sought to pin the blame on their political foes if such an outcome disrupts many services and idles hundreds of thousands of government employees.
A Congressional report on the most recent shutdown -- a 21-day hiatus in late 1995 and early 1996 -- noted that it idled environmental cleanup efforts and led to millions of visitors being turned away from museums and national parks.
Then-president Bill Clinton successfully pinned the blame on Republicans for that shutdown and coasted to reelection in November 1996 while portraying his political foes as radicals.