The head of the World Health Organization warned in a newspaper interview Monday that swine flu may re-emerge stronger than ever even if the current outbreak appears to be declining.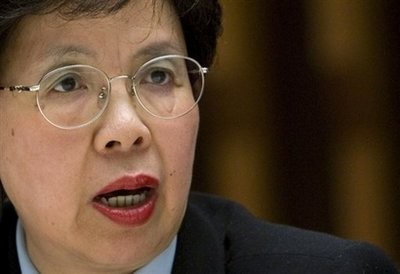 WHO chief Margaret Chan
Margaret Chan told Britain's Financial Times that an apparent decline in mortality rates did not mean the pandemic was coming to an end and a second wave may strike "with a vengeance."
"If it's going to happen it would be the biggest of all outbreaks the world has faced in the 21st century," the business daily quoted her as saying.
"We hope the virus fizzles out, because if it doesn't we are heading for a big outbreak. I'm not predicting the pandemic will blow up, but if I miss it and we don't prepare, I fail. I'd rather over-prepare than not prepare."
She said the end of the flu season in the northern hemisphere meant any initial outbreak could be milder, but a second wave more lethal.
A total of 18 countries around the world have reported cases of human swine flu, with hardest-hit Mexico confirming 22 deaths in all.
But authorities in Mexico said the epidemic appeared to be levelling off, while in the United States an official at the US Centers for Disease Control and Prevention spoke of "encouraging" signs.
Chan insisted the WHO was basing its assessment on scientific risk and was not scare-mongering, and defended its global pandemic alert assessment, which officials have said could soon be raised to the maximum level of six.
"All governments are concerned and taking it extremely seriously. It's a tough call," she added. "Given this type of information, can you imagine if I didn't heighten awareness of public health officials around the world, and three or four days later it hit?"
Chan said increasing the alert level to six did not mean every country in the world would be affected but was a signal to health authorities to step up control and surveillance measures.