GENEVA, May 12, 2009 (AFP) - The World Health Organization has defended its decision to raise the global pandemic alarm for swine flu, as Cuba became the latest country to confirm the virus had spread to its shores.
The global health body's acting WHO Assistant Director-General Keiji Fukuda insisted the outbreak would have been more severe if the WHO had not raised its pandemic alert two weeks ago.
"If countries had not been thinking about what to do in this kind of situation, the fact is we would have had much more confusion," Fukuda said.
"In many ways, the severity would have been greater."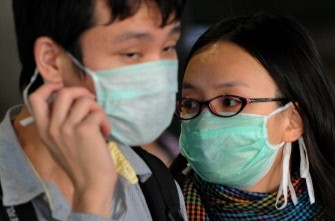 Asian travellers wear face masks to protect themselves against H1N1 flu as they arrive at America's Los Angeles International Airport on May 11, 2009 (AFP photo)
The WHO raised its alert to five on a scale of six two weeks ago, signalling that a pandemic was "imminent" after Mexico and the United States showed sustained local transmission of the influenza A(H1N1) virus.
The alert prompted countries to take specific measures, including looking at distribution of anti-viral drugs or issuing travel advice at airports.
The world death toll passed 50 at the weekend after Costa Rica reported its first fatality from the flu -- believed to be a mix of bird and human flu which came together in pigs -- and the United States confirmed a third death.
Cuba said it had reported its first case of the virus in a Mexican student, while Canada confirmed 40 new cases, bringing the total number across the country to 331.
The student was one of a group of 14 Mexicans studying in Havana who were tested for the disease, the health ministry said in a statement.
Local television said "all but one" were in good health.
But attention was most focused on China, where authorities confirmed that a 30-year-old man was hospitalised with the virus after arriving in the southwestern city of Chengdu on a flight from the United States.
"This is our country's first case of A(H1N1)," Chinese health ministry spokesman Mao Qunan said on Tuesday.
State television said the man, who was in a stable condition, flew from Tokyo to Beijing on a Northwest Airlines flight before connecting on a domestic flight to Chengdu.
China had previously confirmed a case, a Mexican national, in the semi-autonomous southern city of Hong Kong.
China, home to a billion people, is among the Asian nations hit since 2003 by the H5N1 strain of bird flu that has killed more than 250 people, according to the WHO. Some 25 people have died from bird flu in China.
The swine flu virus was first reported in Mexico in April, but has since spread to more than 30 nations.
US health officials meanwhile reported that the 2,600 confirmed cases across the United States represented just the tip of the iceberg of actual infections.
"Many states did not report over the weekend, so we expect a big jump in the number of cases tomorrow," said Anne Schuchat, the interim deputy director at the Centers for Disease Control and Prevention (CDC).
Most of the 4,694 cases confirmed by the WHO have involved relatively mild symptoms and the virus has proved to be treatable with anti-viral drugs such as Tamiflu so far, prompting questions about whether the WHO had acted too rashly.
But the WHO's Fukuda defended the agency.
"It's often hard to see what you would have prevented by doing so much work... if things turn out that few people die, it would be the best of all possible outcomes," he said.
Mexico, the epicentre of the outbreak where 56 people have died, is struggling to get back to normal, and six schools remained shut Monday amid fears of a further flu outbreak.
Mexican authorities announced a one-billion-dollar business support programme to help counter the impact of swine flu, particularly on tourism.
Health Minister Jose Angel Cordova said its infection toll stood at 2,059, with the 56 deaths "equivalent to 2.7 percent of all cases."
In Japan, more than 50 people remain in isolation after they flew in on Friday from Detroit on the same plane as a teacher and three students who have tested positive for A(H1N1).