LONDON, Sept 2, 2011 (AFP) - Anti-secrecy website WikiLeaks said on Friday it had published the full cache of US diplomatic cables, which could be accessed through an Internet link without a password.
"RELEASE CABLEGATE2: 251,287 US embassy cables in searchable format," said a message on WikiLeaks' Twitter account.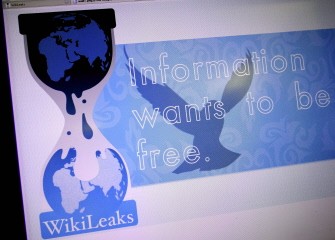 (AFP FILES)This December 9, 2010 file photo shows a screensaver from the whistleblower website Wikileaks.
It was not immediately clear whether WikiLeaks released all the cables without redacting them, as the group had threatened to do on Thursday.
The United States and human rights groups have warned that releasing unredacted cables containing the names of people who spoke in confidence to US diplomats could put the sources' lives in danger.
Despite repeated attempts by AFP, WikiLeaks could not be contacted for comment.
The site infuriated Washington last week when it released 134,000 of the cables, with many showing the unprotected names of informants and other individuals who had spoken to US diplomats.
The release of unredacted cables came after WikiLeaks conducted an online poll Thursday of its Twitter followers to decide whether to go ahead with the release of its entire cache of US diplomatic cables.
Shortly after launching the poll, WikiLeaks said in a tweet that support for its threat to release all the remaining material was running at 100 to one in favour.